'They base their decisions on how frightened they are': James O'Brien slams BBC's 'bias' on impartiality decisions
13 March 2023, 12:57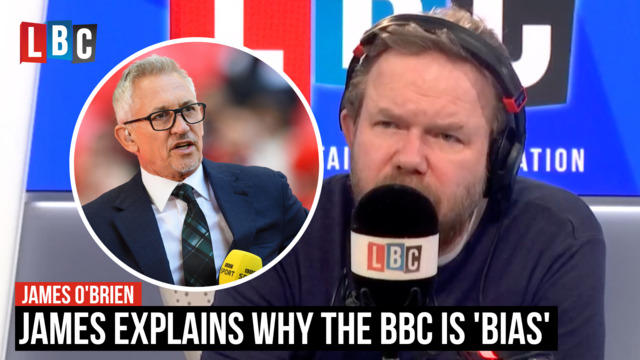 BBC reacts according to level of right-wing pressure, James O'Brien says
James O'Brien criticises the BBC's response to Gary Linekar saying it reveals their bias, as they only react according to right-wing pressure.
James O'Brien spoke to listeners following an announcement that Gary Linekar will return to presenting next week after a brief suspension over his tweets criticising the government's migration policy.
James slammed the BBC saying that their "attitudes and responses in these circumstances are based entirely on pressure from the outside.
"This is really important, the BBC have not got an objective algorithm for presenter opinion...there was one rule for Andrew Neil and a completely different rule for me.
"Because people would complain constantly about someone like me adopting let's just say an anti-Trump, anti-Brexit, anti-Boris Johnson, anti-Tory stance on many issues, pressure would be brought to bear.
"But if you adopt a pro-Trump, pro-Brexit, pro-Johnson stance on these issues, who's going to bring the pressure to bear?"
READ MORE: Gary Linekar 1-0 BBC: Presenter to return as corporation backs down and apologises after social media storm
James asked listeners to take a look across the UK media landscape and tell him who would be able to "exert pressure."
Referring to 'beergate' whereby Keir Starmer was investigated by police after he was reported to have ordered 200 pounds worth of curry and beer for up to 30 aides in Durham in April 2021, James added:
"If it was Johnson under the cosh who would be exerting that pressure...remember Johnson did break the law, one hundred and twenty odd people in Downing Street broke the law, nobody broke the law in Kier Starmer's company so imagine who would exert that pressure.
"If someone wanted to complain to the BBC about coverage that was perceived as to warm towards the Tories, if someone wants to complain about a presenter who tickles their tummies on a weekly basis...who would, where would it be, what front pages would it be on?
"The big problem the BBC has got, and I'm available to be the independent expert to conduct this inquiry...the big problem they've got is their decisions on objective rules or standards, they base it on how frightened they are of the person making the complaint. "
READ MORE: Gary Linekar's suspension from Match of the Day is distracting from 'disgraceful' migrants bill, Jeremy Corbyn tells LBC
James drew on his own experience: "I was once told off by the editor of Newsnight because Toby Young, I don't know if you're aware of him, he's like a thumb in spectacles.
"I think he's involved in something like the free speech union now, which is a ludicrous confection for people who aren't quite sure what they're angry about but my God they're sure that they're angry.
"I had to fend off concern from above...because Toby Young had tweeted something critical...can you imagine taking him seriously?
Someone as pathetic as that actually worries them, because he's part of that universe of weirdos."
"And yet if someone is slavishly supportive of Boris Johnson who is going to complain about that?"
BBC Chief Executive Tim Davies has apologised for the organisations reaction to Gary Linekar and has announced an independent review into its social media usage guidelines.