James O'Brien argues Tories 'deep down' don't want to tackle migrant crisis
7 March 2023, 13:14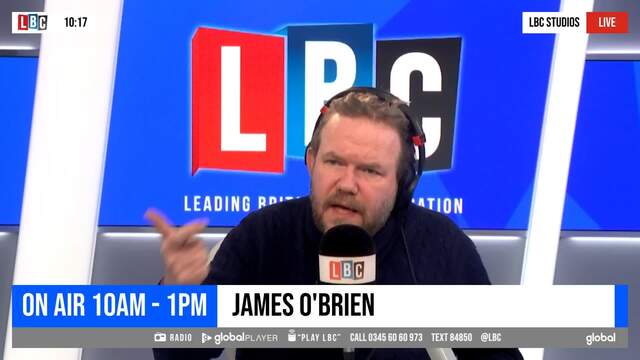 James O'Brien is almost certain he knows the government's 'real' plan for the UK's 'migrant crisis'.
He argues the government will 'keep the fire burning' to continually distract the public from the wider problems facing society.
The government have revealed plans to tackle the surge of small boats transporting migrants across the Channel.
Home Secretary Suella Braverman has addressed the Commons this afternoon, outlining that the Illegal Migration Bill will "stop the boats" which are transporting "tens of thousands" of individuals into the country.
READ MORE: Suella Braverman vows to push human rights laws to the limit in latest immigration crackdown
If the new legislation is implemented, those that attempt to reach the UK via the Channel will be removed to a third country such as Rwanda and banned from returning in the future.
READ MORE: Shadow Immigration Minister slams Tory migration plans claiming it 'won't work' and will 'compound the situation'
Infuriated by the proposed migrant bill, James stated how the Conservatives want to "keep the fire burning" and "turn up with fake fire extinguishers" whilst attacking "the European Convention on Human Rights" and "European Court of Human Rights".
James continued, adding "so they don't have a hope in hell of putting the fire out and deep down they don't really want to".
Addressing the Commons, the Home Secretary said the small boat issue is part of a larger global migration crisis, highlighting key migration figures saying, "since 2018, some 85,000 people illegally entered the UK by small boat - 45,000 of them in 2022 alone".
READ MORE: London to get snow this week, says Met Office, as Arctic blast makes Brits shiver in freezing temperatures
James believes the Tories will avoid dealing directly with the "migrant crisis", stating "if they put the fire out, what are they going to use to distract everybody from the state of the NHS, the consequences of Brexit, the cost of living, the state of schools, the sewage in our rivers, and on and on and on and on".
Suella Braverman told the Commons the government "has not sat on its hands" over illegal migration.
She continued saying since Rishi Sunak took office, a new deal has been agreed with France "providing more technology and embedding British officers with French patrols."
"I hope Friday's Anglo-French summit will further deepen cooperation".