James O'Brien reacts as migrants exit 'ludicrous' Bibby Stockholm barge over Legionnaires' bacteria
11 August 2023, 16:29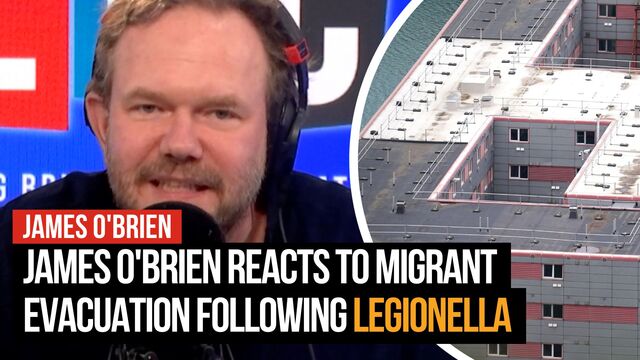 James O'Brien reacts to migrant evacuation following Legionella discovery
James O'Brien reacts to the evacuation of asylum seekers from the Bibby Stockholm barge with Legionella bacteria in the water.
James O'Brien shared his immediate reaction after the asylum seekers aboard the Bibby Stockholm were moved off after Legionella bacteria was detected in the water supply.
The 39 migrants only boarded the barge, which is docked in Portland, earlier this week.
The bacteria can cause Legionnaires' disease, a lung infection that causes flu-like symptoms, coughs, chest pain, and shortness of breath.
James began by saying: "Ah, that can't be true, can it?
"I think that ludicrous barge in Portant is being evacuated...
"So, one of the main reasons that organisations run by decent people were concerned-
"Because you know if the accommodation is up to sniff, it doesn't matter whether the accommodation was on water or land but the concerns from campaigners and charities and caring human beings was that the accommodation wasn't safe, it wasn't up to sniff..."
A Home Office spokesperson said: "The health and welfare of individuals on the vessel is our utmost priority.
"Environmental samples from the water system on the Bibby Stockholm have shown levels of legionella bacteria that require further investigation.
Read more: Migrants evacuated from Bibby Stockholm days after boarding as Legionella bacteria found in the water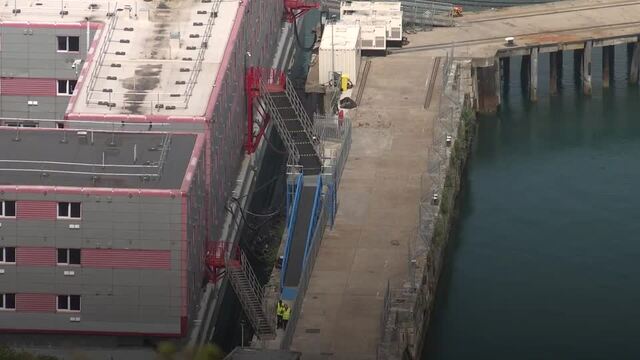 Asylum seekers removed from barge after Legionella bacteria found in water supply
James continued: "I mean the phrase, I can't say the phrase, but you know like if you were to organise a drunken revel in a brewery, you know that phrase about not being able to organise a drunken revel in a brewery fits this lot pretty neatly."
None of the people on board have shown any symptoms, but they have used the water supply.
Read more: Life on board Bibby Stockholm: Migrants compare barge to Alcatraz while others say it is 'good'