James O'Brien appalled by doctors set to be 'forced off picket lines'
19 September 2023, 14:04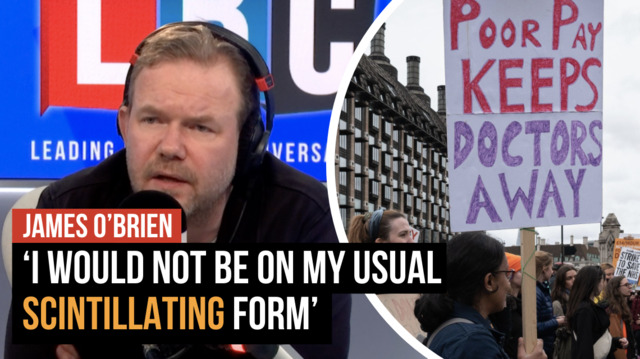 James O'Brien imagines how he'd feel if he were forced to work during a strike
James O'Brien can't "understand" why ministers are proposing a crackdown on the minimum service level agreement, which could see NHS staff forced off picket lines.
It has been revealed that doctors and nurses could be compelled into crossing picket lines by the threat of being sacked under rigid anti-strike plans.
This comes after a spate of NHS walkouts have caused widespread chaos across the health service.
Tory ministers are proposing the introduction of "minimum service level" regulations, meaning that some health workers would be forced to work under industrial action.
The new regulations, which are open to consultation, would mean doctors and nurses have to provide a certain level of cover after being issued with a "work notice" by employers on what is needed to maintain "necessary and safe levels of service".
READ MORE: Health Secretary slams 'militant' doctors' union as he refuses to meet with striking medics over pay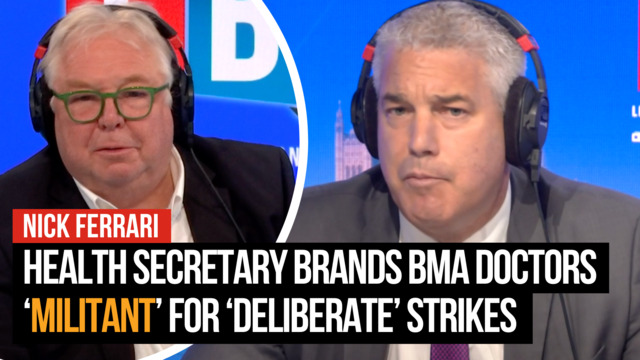 Health Secretary explains how the 'militant' stance of the BMA has hindered negotiations
James O'Brien empathised with health workers: "I think if I was forced to work during a strike, the quality of the show would not be as great as you have come to expect every morning.
"If I was on strike and there was some sort of legal mechanism by which they could frogmarch me into this studio, handcuff me to this chair and force me to burble into this microphone, even if I was trying my hardest... I would not be on my usual scintillating form.
"I'd be discombobulated inside, my stomach would be churning, the sense of resentment I felt at being manhandled into the studio would be very difficult to dissipate."
James questioned the logic behind the proposal: "What the hell are we even thinking when we contemplate the idea of forcing doctors to work during strikes? I don't even begin to understand it."
READ MORE: 'Absolutely breathtaking': James O'Brien reacts to Rishi Sunak blaming junior doctors for NHS waiting lists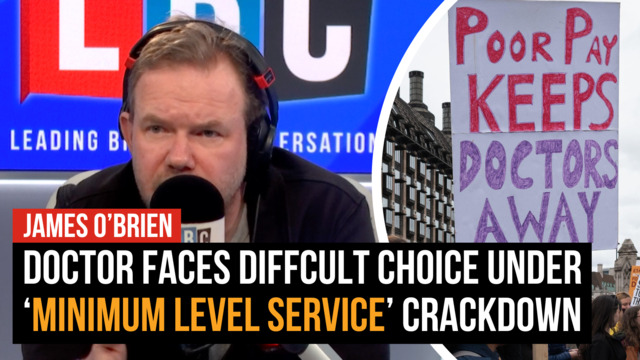 Striking doctor facing difficult choice as doctors set to be forced across picket line or lose jobs
Later on in the show, striking consultant, David in Walthamstow, told James that if they 'revamped' the minimum service agreement he would have to cross the picket line because he "can't afford to be sacked".
David explained that if the proposed crackdown was more than just "hot wind" and an attempt to "scare" doctors, he would have to "take it on the chin" and return to work.
READ MORE: Doctors' strikes to hit patients 'unlike anything seen before', NHS officials warn