Health Secretary slams 'militant' doctors' union as he refuses to meet with striking medics over pay
19 September 2023, 08:32 | Updated: 19 September 2023, 08:59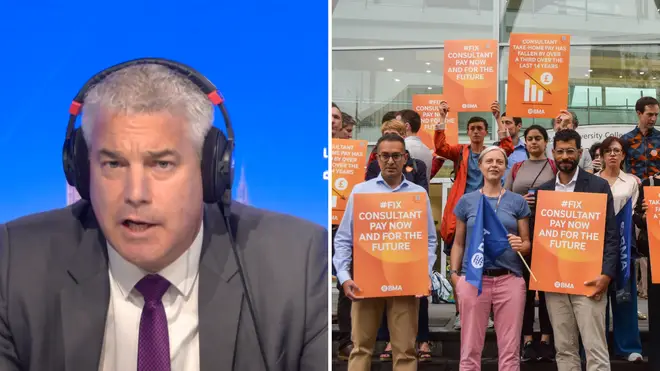 The Health Secretary has criticised the "militancy" of the doctors' union as he ruled out discussing pay with striking medics.
Junior doctors and consultants are walking out again, in the first joint strike in the history of the health service, prompting fears of NHS chaos this week.
Steve Barclay told LBC's Nick Ferrari on Tuesday that the "militancy" of doctors' union the British Medical Association had been a stumbling block to negotiations.
"One of the problems we've experienced is locally NHS leaders and BMA representatives agreed a number of exemptions, but then because of the militancy of the national BMA committee they refused to agree what had been agreed locally," he said.
"So that makes it very difficult for NHS leaders to plan, that makes it very uncertain for patients."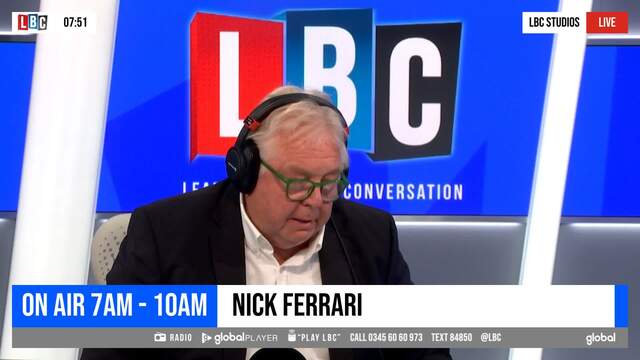 Nick Ferrari is joined by Steve Barclay
Pressed by Nick on what he meant by "militant", he said: "It's militant when locally the BMA's own local representatives [agree]....17 exemptions... in August but then the committee nationally refuses to let those go ahead". He was referring to negotiations for some trusts to be exempt from junior doctors' strikes.
Another example the Health Secretary cited was timing strikes "deliberately because it's the time of the Conservative Party conference" and "demanding 35% at a time when the government is committed to bringing inflation down".
Asked by Nick what he was doing to avert the latest strikes, Mr Barclay said: "We're not meeting on the issue of pay, we 've been clear, the PM's been clear that the government's position on pay is final."
He added: "We're not meeting the junior doctors because… the demand of 35% is not one the government can meet… what we've done is accept in full the recommendations of the independent pay review body process, we've been clear as a government that the pay for this year has been settled, and that is final."
A senior member of the BMA said the Health Secretary had not talked to the union for 150 days.
Simon Walsh, the deputy chair of the BMA's UK consultants committee, told LBC: "Of course, there are sort of conversations which go on outside of formal talks, and they've been somewhat encouraging to be, to be fair, but there's been no actual discussion with the health secretary or any minister for consultants in the last 150 days.
And the Prime Minister has been clear that they won't talk about pay. That's in a situation where the dispute is about pay, and all the NHS leaders are calling for the two sides to talk - that's completely not a tenable position, and not one, I think that the public will support.
"And we we want to get around the table with the government, with the Prime Minister with the Health Secretary, having negotiations, including discussion of our pay, because that's what led us to into this dispute. And if we can't talk about the main issue, then those talks, of course, won't lead to a satisfactory conclusion."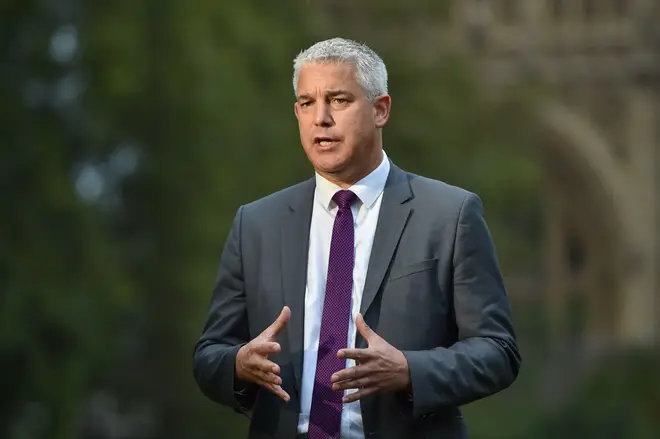 But he said his "door's open" adding that he meets with staff groups on a "regular basis around many issues".
The latest strikes come as ministers propose introducing "minimum service level" regulations for those working in the NHS.
The new regulations, which are open to consultation, would mean doctors and nurses have to provide a certain level of cover after being issued with a "work notice" by employers on what is needed to maintain "necessary and safe levels of service".
Mr Barclay told Nick: "What we're putting place for the consultation is getting the safety net between recognising people's fair right to strike but also for time-critical services in hospital - things like chemotherapy, things like dialysis are protected as minimum service levels in the way that would happen in the Sunday service in France or the provision that would be in Italy."
Read more: Doctors' strikes to hit patients 'unlike anything seen before', NHS officials warn
Read more: 'Absolutely breathtaking': James O'Brien reacts to Rishi Sunak blaming junior doctors for NHS waiting lists
Mr Walsh said the announcement was "actually rather cynical".
"One of the main reasons we've been led into the point of being forced to take industrial action is because the the effects of the loss of pay for doctors over the last 15 years means we don't have enough doctors in the NHS," he said.
"And therefore, we're often not able to maintain what might be just what we might consider as ideal staffing levels, day in, day out, year in, year out."
"Now, these proposals are aimed at limiting the ability of trade unions to take lawful industrial action. But what I would say is, this week, we're running Christmas Day levels of service, that means it's, as a minimum, the number of doctors that you would have on a Christmas Day.
"In fact, there'll be more than that, because there'll be doctors who are not eligible to be strike who are working, who wouldn't be working on Christmas Day. So it's completely ludicrous to suggest that staffing levels for urgent emergency care or anything less than safe over the coming days. And therefore, one has to sort of question the timing of this.
"And the only conclusion I can make is it's a cynical attempt to distract from the actual main issue is that, which is that we need to get around the table talk and the government needs to produce a credible offer."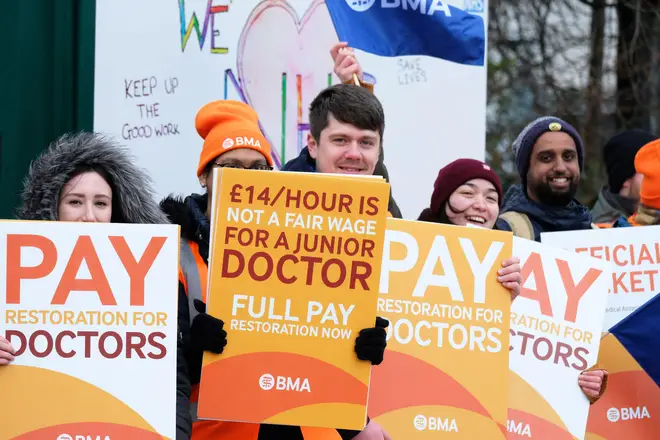 Thousands are walking out across England in a dispute over pay, with consultants also walking out with doctors on Wednesday.
Junior doctors, who have held 19 days of strike action since March, will then continue their strike on Thursday and Friday this week.
Both consultant and junior doctor members of the British Medical Association (BMA) will again join forces for strikes on October 2, 3 and 4.
Mr Barclay told the Telegraph his "top priority throughout ongoing industrial action is to protect the life and health of patients".
He warned of the dangers posed by the "relentless and escalating" action of the British Medical Association (BMA).
Mr Barclay added: "In the face of ongoing and escalating strike action, we will continue to take steps to protect patient safety and ensure the health service has the staff it needs to operate safely and effectively."
Thousands of operations and appointments have already been cancelled ahead of the strikes taking place.
A Christmas Day-style service will be provided on the joint strike action days, with emergency care being the priority.