'Absolutely breathtaking': James O'Brien reacts to Rishi Sunak blaming junior doctors for NHS waiting lists
15 September 2023, 14:51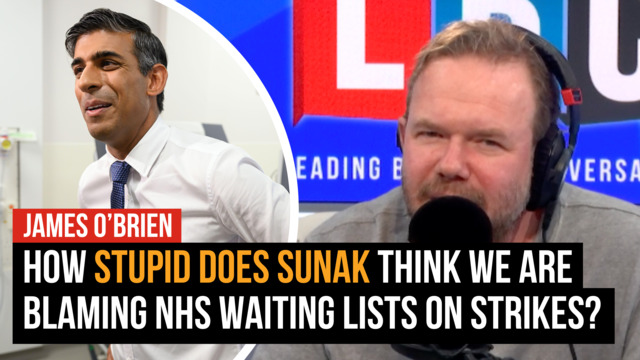 James O'Brien reacts to Rishi Sunak blaming junior doctors for NHS waiting lists
Rishi Sunak is blaming longer NHS waiting lists on strikes, 'as if we're too thick to notice' they were 'enormous before any industrial action began', a disgruntled James O'Brien remarks.
James O'Brien spoke to listeners after Rishi Sunak cast doubt on one of his five pledges - to cut NHS waiting lists - blaming a lack of progress on striking junior doctors.
The prime minister said on Thursday it would be "very hard" to reduce waiting lists by next March.
James said: "I mean how stupid does he think you are to fall for this?
"The idea that these waiting lists are the fault of the doctors and nurses toiling daily to reduce them.
"It's madness!"
The monologue comes after new figures showed a record 7.68 million people were waiting for treatment in the NHS by the end of July.
Read more: XL bully breed to be banned in UK after spate of attacks - just hours after man savaged to death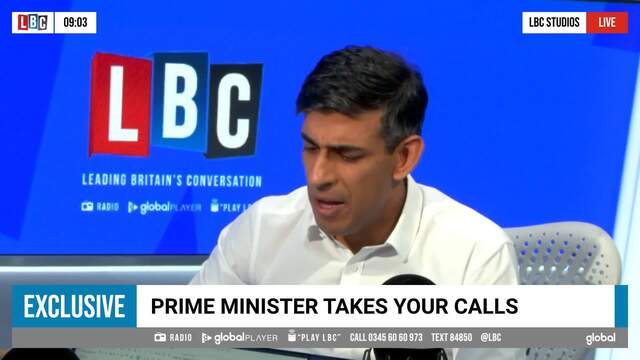 Sunak comments on waiting lists.
Read more: How half of all XL bully dogs in Britain are descended from 'notorious' LA fighting dog 'Killer Kimbo'
This is an increase of more than 100,000 in a month.
According to Mr Sunak, striking junior doctors are to blame.
"We were making very good progress before industrial action," the prime minister said.
"With industrial action, it's very hard to continue to meet these targets."
Reacting to Sunak speaking on LBC "blaming" doctors for waiting lists James said: "What I particularly love about the mealy-mouthed little mewl is the way that he's saying 'we've essentially sorted it out it's only all the doctors'.
"I'm not imagining that am I…absolutely breathtaking."