'He is a disgusting, despicable liar': James O'Brien's damning commentary on the results of the Partygate report
15 June 2023, 13:52 | Updated: 15 June 2023, 20:12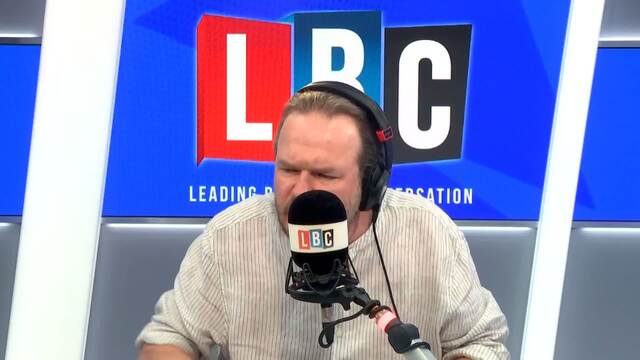 As Boris Johnson is found to have deliberately misled Parliament during the Covid-19 pandemic in relation to Partygate, James O'Brien says we can breathe a "sigh of relief that one of the foulest cankers to pollute the body politic" has been removed.
With the news the Privileges Committee has found former Prime Minister Boris Johnson guilty of deliberately misleading Parliament in an "unprecedented" incident of contempt, James O'Brien gave his view.
He began his monologue: "Today is a day to take pride in parliamentary democracy, it's a day to perhaps allow yourself a sigh of relief that one of the foulest cankers ever to pollute the body politic has apparently been removed in circumstances so complete that even he would struggle, although he will try...to pretend that things are not as bad as they seem."
James took a shot at attempts to defend Mr Johnson, saying there "just isn't a counter to his condemnation."
He continued: "Even after all these years, after Trump and Johnson and Brexit, the medium model and the political framework is not capable of recognising this reality it has to pretend there are two sides..."
"Let's get someone on the show to defend Boris Johnson, it's a bit like getting Harold Shipman's mum on the show to talk about how he did a bang-up job of looking after kids with tonsillitis and we should weigh that against his epic crimes."
"Where else does the guilty get corners of the media queuing up to say they have been badly treated...every single day, every week, every month, every year, whether in public or in private has proved...that he lies like the rest of us breathe."
READ MORE: Boris Johnson deliberately misled parliament in Partygate scandal with 'unprecedented, serious contempt,' report finds
James also hit out at former MP and close ally of Boris Johnson Nadine Dorries, who resigned last week, who he says Mr Johnson has also lied to: "Bless her little cotton socks."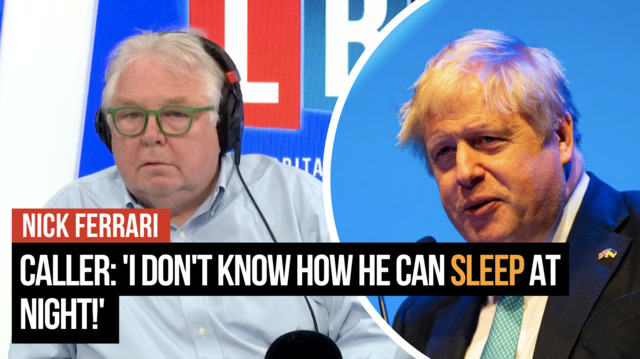 LBC: Tearful caller upset with Boris Johnson over Partygate
Listen and subscribe to Guto Harri's Unprecedented: Inside Downing Street on Global Player
He went on: "I'm reminded of Billy Bunter, covered in crumbs, denying that he has eaten any cake, covered in pie juice, wrapped around his lips like Christian Dior lipstick...it's absolutely incredible how Boris Johnson's latest travail proves the depth of the damage done to this country."
"You're talking about a Prime Minister standing up in the House of Commons and lying through his teeth...lying about events that were unfolding when the rest of us couldn't even kiss our mothers," he continued.
READ MORE: Read in full: Partygate report finds Boris Johnson deliberately misled MPs and was facing 90-day suspension
James moved on to those "who were responsible", saying "what perhaps matters most is the complicity," before going on to attack other journalists.
"The people who thought oh he's just a good bloke, oh he's just a bit of fun, oh good old Boris, shouldn't be held to the same rules others should be held to...it is absolutely shameful that my profession is still populated by people who have spent the best part of a decade treating him like some sort of messiah."
He added: "Anybody with a single ounce of integrity, honesty or professionalism could see that he is a disgusting, despicable liar, who has disgraced this country, disgraced our parliament and disgraced our politics."
James concluded: "So put the champagne back in the fridge, it's not time to celebrate, it's time to ruminate on how this all happened."
Of any attempt to downplay partygate he said: "Put it in the bin, put it through the shredder, put him where he belongs in disgrace, in the corner forevermore, stop pretending there are two sides to every story!"
As Boris Johnson stepped down last week he does not face a suspension as a result of the report, however, his right to a parliamentary pass, usually available to former MPs, could be removed.
Listen to James O'Brien's podcast Full Disclosure on Global Player