James O'Brien points out contradiction between 'looking after our own' healthcare staff while opposing their strikes
11 April 2023, 14:22 | Updated: 11 April 2023, 15:14
James O'Brien links the racism in the Brexit debate to fury at junior doctor strikes
James O'Brien felt it was "strange" that people would say "our own" doctors and nurses need to be trained and looked after, but in the next breath disagree with the strike action they are taking in order to receive better pay and working conditions.
James O'Brien said that if he were a Nigerian paediatrician, a Polish paramedic or a German geriatric nurse, he wouldn't know how to feel about people saying "it's outrageous that we've got so many foreign doctors and nurses", and that "we should train our own".
He took his listeners back to 2016, where in the week after the Brexit referendum, a French psychiatrist phoned in to say "her own patients were telling her they'd voted to get rid of people like her".
READ MORE: Government slams junior doctors' 'unreasonable' pay demands as NHS braces for most disruptive strike in its history
James felt that the phrase "we should train our own" is a "horrible" and "repellent" message as it suggests that those trained or born elsewhere are "undesirable, or unwelcome, or somehow substandard, or second class".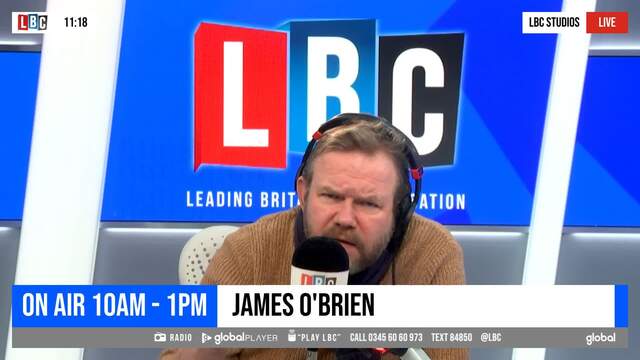 James asks who people mean when they say 'look after our own'
James' comments come on the first day of a four-day junior doctors strike for a 35 per cent pay rise, which could affect as many as 350,000 appointments.
"The more interaction you have with the NHS, the more you realise that it's a sort of a medical United Nations", he analogised.
"The idea of going from A&E and through triage and into the whole machine without encountering somebody who was born elsewhere is pretty close to zero I would imagine, and yet there it was, held up as an example of something that we needed to take back control of during the Brexit debate", he explained.
READ MORE: James O'Brien tears into the 'disingenuous moral corruption' of those who oppose foreign aid
James then pointed out the glaring contradiction in which "the same people that claim that we should 'train our own' seem to me to be the people most likely to oppose industrial action designed to 'look after our own'", referring to junior doctors' strike action.
Bewildered, James said: "It's a strange one isn't it?"