'These things need scrutiny': Defence expert banned from government event receives apology but demands more
12 July 2023, 14:58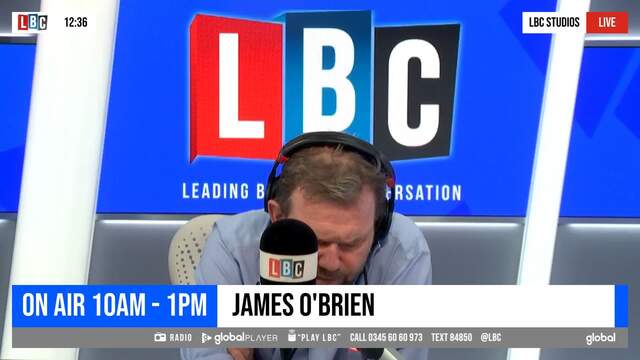 'This is only the tip of the iceberg': Chemical weapons expert banned from government event
James O'Brien heard from chemical weapons expert Dan Kaszeta, who was banned from a Government conference, saying that an apology "doesn't address the underlying issues," and so he's "not finished yet".
Dan Kaszeta explained to James O'Brien and his listeners: "I was uninvited from a conference which I had been invited to speak on the subject of chemical demilitarisation which is getting rid of chemical weapons."
At the time the reason for rescinding his invitation was because: "Social media vetting has revealed that you've got content that is critical of government officials and policy so, therefore, we are uninviting you, we're cancelling you, they literally used the word cancel."
James then asked: "What happened next?"
"Well, coming on your show was part of it a full spectrum media fight, a political fight in the House of Commons, and a legal fight. I hired a solicitor and assembled a legal juggernaut crowd-funded by very good supporters."
He then said: "We've rattled various things out of the government… including an apology."
Read More: Expert banned from government event says Jacob Rees-Mogg's legislation smells like 'stalinism'
Mr Kaszeta then read out his formal apology: "Dear Mr Kaszeta, I am writing to you to offer my sincere apologies for DSTL's [Defence Science and Technology Laboratory] error in rescinding your invitation to the chemical weapons demilitarisation conference earlier this year.
"The decision was incorrectly taken following informal checks of your social media posts and due to a misapplication of cabinet office guidance which was referred to in media reports ins which applies only to cabinet office staff events. This was not in accordance with DSTL's process for organising events."
Commenting on this apology Dan Kaszeta said: "This is problematic because these policies are still out there- all they've said is that they don't apply to me. It doesn't address the underlying issues."
"I'm not finished yet- these things need scrutiny," he concluded, "I know there are more victims of this I know I'm just the tip of the iceberg."
Read More: 'Democracy is in danger': Security expert Edward Lucas stresses significance of Jacob Rees-Mogg blacklist