'They've tried to kill him twice!': James O'Brien left 'disgusted' by Vladimir Kara-Murza arrest
17 April 2023, 12:49 | Updated: 17 April 2023, 13:22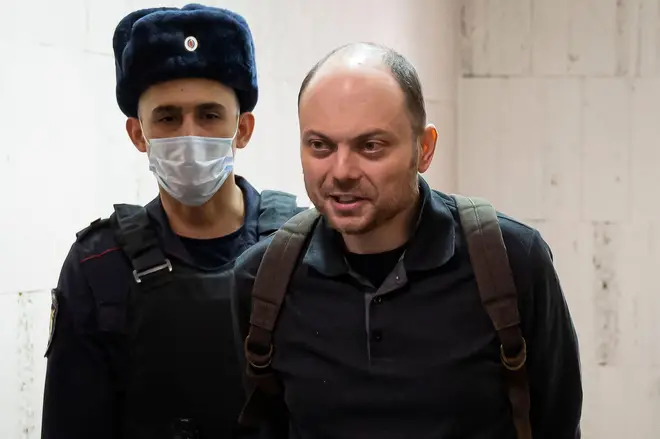 James O'Brien was "enraged" after Vladimir Kara-Murza Jr has been sentenced to 25 years in a Russian jail, telling listeners he's "one of the bravest men" he's ever met.
James O'Brien spoke to listeners after a "friend" of his and a prominent opponent of Vladimir Putin has been sentenced to 25 years in a Russian jail for being critical of the war in Ukraine.
Vladimir Kara-Murza Jr, a Russian-British former journalist, and prominent opposition activist who twice survived poisonings he blames the Kremlin for, has been behind bars since his arrest a year ago.
His 25-year sentence was the highest term sought by prosecutors.
James said: "He's one of the bravest men I've ever met, he's been poisoned by Putin on numerous occasions.
"The criticism of the war in Ukraine is also a cause of his incarceration, the latest in a number of Vladimir Putin's opponents to have been arrested or forced to flee Russia he went back to...I tell you what I I'm going to do actually if I can hold it together I'm going to read you what he said to the court in Moscow last week."
READ MORE: Putin opponent Vladimir Kara-Murza sentenced to 25 years in jail in Russia for treason.
Reading the comments made by Vladimir Kara-Murza, James said: "I only blame myself for one thing, I failed to give convince enough of my compatriots and politicians in democratic countries of the danger that the current Kremlin regime poses for Russia and for the world.
"For me, as a historian, this is cause for reflection. Criminals are supposed to repent of what they have done, I, on the other hand, am imprisoned for my political views.
"I also know that the day will come when the darkness over our country will dissipate. Prosecute murderers and criminals rather than honest and responsible citizens who dare to think and speak the truth."
James said: "They've tried to kill him already they've tried to kill him and he went back to speak up for what he believes to be true to speak up for his country and his compatriots and now they've sentenced him to 25 years in a Russian jail."
He later continued: "So, that's why allowing London to become a playground for Putin's billionaire mates is so disgusting, that's why putting people in prominent positions in British society up to and including the House of Lords looking at you Boris Johnson is so enraging...They tried to kill him at least twice."
READ MORE: 'I'll fight to get him home': Wife of jailed Putin critic says his 'life is in danger'