'Let them eat quiche!': James O'Brien criticises the right wing media's tendency to ignore real news as food prices rise
19 April 2023, 12:44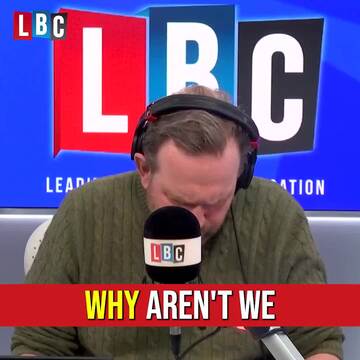 Why aren't we talking about food price rises?
James O'Brien has criticised "corners of the right-wing media" for stirring up a culture war rather than addressing real issues such as food price inflation.
James O'Brien spoke to listeners following the news that food price inflation has risen to 19.2%.
James asked: "Why aren't we talking about the fact that food is currently increasing in price at a rate not seen for 45 years?
"There is no more important story in town however hard some corners of the right-wing media might be trying to persuade you otherwise."
James then read out some of their top stories from today: "'When will someone get a grip on the eco fanatics?' Asks the Daily Mail
Read More: Food price inflation soars to 45-year high of 19.2% and overall rate dips slightly - but still stays over 10%
Read More: Jeremy Hunt tries to calm inflation fears after food prices rise to 45-year high
"There's a full page in the Daily Mail about a medical student who went off for some liposuction during the strike week. So if you've got any student children and they are politically active you better warn them that their social media will be pored over by dirty middle-aged men in raincoats looking for excuses to print pictures of your daughter in her bikini."
"'You're paying the rise in the price of fat cat salaries,' that's the Daily Express of course- not talking about the kind of fat cats who run Fox News but talking instead about people who work for councils"
James concluded: "In many ways, subconsciously, all of the media outlets today who are trying to distract you with nonsense culture war stories are sort of subscribing to the 'Let them eat cake' school of thought.
"We've even got a coronation on the horizon haven't we, doesn't get more let them eat quiche than that."