'How much can Rishi Sunak knock down before Keir Starmer becomes Prime Minister?, asks James O'Brien
6 October 2023, 12:44
James O'Brien analogises the pressure on Labour to consider reviving the project
With Rishi Sunak's announcement that HS2 will be scrapped, James O'Brien analogises the pressure on Labour to consider reviving the project.
"Imagine there's a house," James began, "That house is called HS2 Towers, Rishi Sunak and Keir Starmer both pledged -although Rishi Sunak wasn't leader in 2019- we're going to move into that house if I am in power."
"Rishi Sunak abandons that manifesto and says we're not moving into that house anymore and then he knocks it down".
James' monologue comes after the Labour leader said that the Conservatives have "taken a wrecking ball" to the project.
James then explains that this is his "defence" of the Opposition leader, but with "a side order of should he be doing more opposition."
READ MORE: Harry Redknapp says TV football bosses feel they 'have to have a woman on', as Kevin Keegan sparks punditry row
READ MORE: Sir Keir Starmer hails 'seismic result' as Labour wins Rutherglen and Hamilton West by-election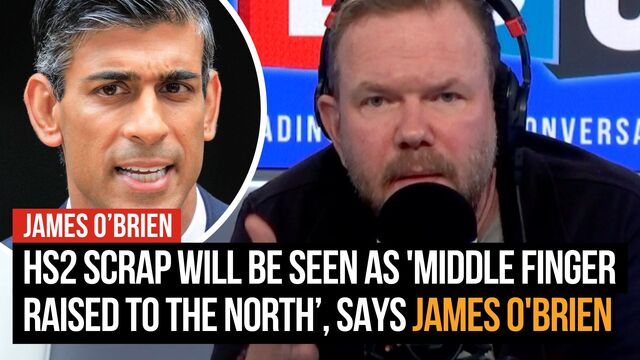 HS2 scrap will be seen as a 'middle finger raised to the North of England', says James O'Brien
He continued: "So you get to the point where Keir Starmer is being asked, 'Are you going to move into that house? Like you said you would,' and his defence is, 'Well I can't because they've knocked it down".
James then asked listeners how they thought the Labour leader was doing, noting: "I started from a sincere point of skepticism, saying what the hell does the opposition oppose?"
"And then I thought about it...the more I thought about it, the more I began to wonder whether he had no choice whatsoever but to say what he said, and that leads you to the analogy of the house."
"How can Keir Starmer pledge to move into the house that he promised to move into four years ago if Rishi Sunak has essentially knocked the house down," he continued.
He concluded: "The question becomes, how much of the house can Rishi Sunak before Keir Starmer potentially becomes Prime Minister?"