"He was halfway out the window himself and then pushed": Andrew Marr and James O'Brien debate Raab's resignation
21 April 2023, 13:42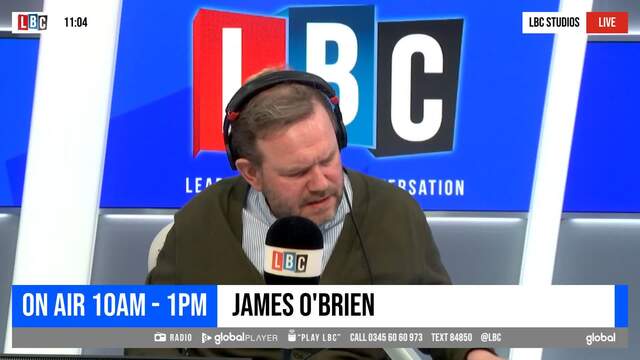 James O'Brien and Andrew Marr discuss Raab's resignation
Andrew Marr has argued that in "cold political terms Rishi Sunak did the right thing" as keeping Dominic Raab in office would have made the prime minister "a prisoner of his own benches" but James O'Brien believes he has not escaped accusations of weakness.
Following the resignation of Dominic Raab as Deputy Prime Minister and Justice Secretary after an inquiry into bullying accusations, James O'Brien asked Andrew Marr: "Where does this sit in the pantheon of comparable departures from high office?"
Andrew responded: "There isn't much of a pantheon James. In the sense of bullying allegations like this, I can't remember an example; I can remember lots of senior politicians who have behaved very aggressively in private over the years but this is the first time someone's actually gone for it."
"It's really worth saying at the outset that this was a genuinely difficult decision for Sunak. Had he kept Raab it would have been a huge distraction from his so-called five pledges, the opposition would have gone on about it and there would have been legal challenges from former civil servants."
Read More: Dominic Raab quits with swipe at 'Kafkaesque' saga after bullying report found he 'insulted and intimidated' officials
Read More: 'A good day for British democracy': James O'Brien tears into Dominic Raab following his resignation
"It would have also been a huge distraction ahead of the local elections and it would have played into the narrative that Rishi Sunak was a weak leader and a prisoner to his own benches."
Andrew continued: "Clinically in cold political terms Sunak did the right thing. However, these two guys are quite close and Raab stood by Sunak during that long sticky leadership campaign even when it wasn't in his interest to do so."
However, James disagreed: "Well you say that, but he hasn't exactly headed off all accusations of weakness from the past, because it's a different departure from Nazhim Zahawi who was sacked where as Raab has been allowed to resign."
Andrew then conceded: "I think he was halfway out the window himself and then pushed.
"If you look at his letter he is still clearly stingingly angry. That is not someone going quietly."
In terms of Raab's replacement, Marr said: "There is a stream of young legally trained Tory MPs and Ministers including a few female ministers"
"I don't think it will be a big reshuffle because frankly, Sunak wants as little kerfuffle as possible.
Read More: Dominic Raab resigns: How bullying allegations against ex-deputy PM and justice secretary unfolded