James O'Brien brandishes Boris Johnson as a 'liar' ahead of Partygate grilling
22 March 2023, 15:16 | Updated: 22 March 2023, 18:52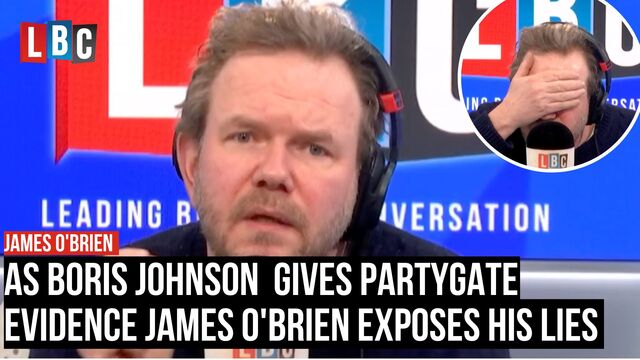 James O'Brien on Boris Johnson's lifetime of lives
James O'Brien accused the former Prime Minister of converting 'his supporters into liars' after the partyagte fiasco.
James O'Brien says "a lifetime of lies that prepares you for a moment like that" as Former Prime Minister Boris Johnson prepares to give evidence to the Privileges Committee.
Commenting on Mr Johnson's approach of denying the accusations against him, James deemed it "surreal" claiming he was "presented with a problem" and "lied without thinking".
READ MORE: Boris Johnson 'could have shut down parties but didn't,' says official as more Partygate evidence released
Boris Johnson will appear in front of the Privileges Committee this afternoon to address evidence gathered in relation to the Partygate scandal.
James continued, saying: "This is the gift Boris Johnson gives to all of his supporters, he turns them all into liars."
Supporting his point, James stated: "He says what gets him through the next 5 seconds, he doesn't care about 5 minutes, doesn't care about five days, doesn't care about five years."
The seven-member Commons privileges committee is investigating whether what Mr Johnson told Parliament prevented it from properly holding him accountable.
READ MORE: 'What is wrong with these people?!': James O'Brien blasts Boris Johnson and his supporters
Before the hearing commenced the committee published a "core bundle" of evidence which will be examined during the hearing.
The former Prime Minister, who was removed from office last year after several scandals, faces potential suspension if MPs decide he deliberately misled them.
Mr Johnson has since admitted he did mislead MPs over Partygate but not on purpose.
James concluded his point by stating: "Lie after lie after lie after lie, means that it becomes not even second nature. It replaces what passed for first nature in the first place. It becomes first nature."