James O'Brien slams Nadine Dorries' honours snub 'sob story'
13 June 2023, 13:34
James O'Brien calls out Nadine Dorries for the creation of echo chambers
With the former Culture Secretary blaming her House of Lord snub on current Prime Minister Rishi Sunak, James O'Brien gives his thoughts.
James O'Brien gave his opinion on former Culture Secretary Nadine Dorries, who was absent from outgoing PM Boris Johnson's honours list released on Friday and is now blaming Prime Minister Rishi Sunak saying he blocked her "deliberately".
Ms Dorries stepped down following the perceived snub late last week, triggering a by-election in her constituency of Mid-Bedfordshire.
She was closely followed by Mr Johnson who resigned after receiving the findings of the privileges committee investigation into whether he deliberately misled MPs over parties in Downing Street during COVID restrictions. The MP for Selby and Ainsty Nigel Adams also resigned.
On Monday, Ms Dorries raged against the current PM saying he is playing "political games" and that "sinister forces" conspired against her to ensure she was left off the list.
Mr Johnson has also attacked Mr Sunak, saying that he believed the latter had secretly blocked their peerages to avoid the possibility of by-elections.
READ MORE: Boris Johnson misled Parliament by claiming Covid rules were followed, privileges committee to say
James began: "I wonder whether they have created these echo chambers now...she can go on her own TV shows, she can write a column in the Daily Mail, she can knock around in the Hosue of Commons."
"Imagine if you lived in a world where you could say all of this stuff and people would just say 'oh that's terrible, you poor thing', no one would actually say 'give your head a wobble would you, that's absolutely crackers.'"
Referring to the Conservatives in general, he continued: "All of them now...they're trying to create a world in which disagreement and reality do not exist."
James went on, calling Nadine Dorries claims she has been "left out" of the House of Lords because she is from Liverpool a "sob story".
He exclaimed: "What we miss from the outside looking in is that they believe it! they have persuaded themselves that this stuff is true."
Listen and subscribe to Guto Harri's Unprecedented: Inside Downing Street on Global Player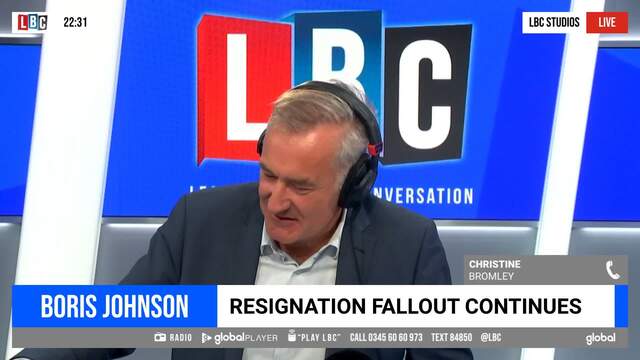 Caller says there's 'no doubt' Boris Johnson 'will be back'
READ MORE: 'No one has the right to judge you': Mum-of-three jailed for taking abortion pills after legal limit hits back
James then read from the column Ms Dorries wrote from the Daily Mail in which she claimed she is "heartbroken" by her lack of place in the House of Lords, saying it would be "recognition" of her "clawing" her way out of poverty in order to "carve out a role in public service".
He commented: "How thick do the walls of your echo chamber need to be to conjure up that as a plausible depiction of reality?"
He concluded with a damning question: "But what would she point to in her career as things to be proud of?"