Rishi Sunak's weakening of Net Zero policies is his 'stupidest intervention' to date, asserts James O'Brien
20 September 2023, 12:51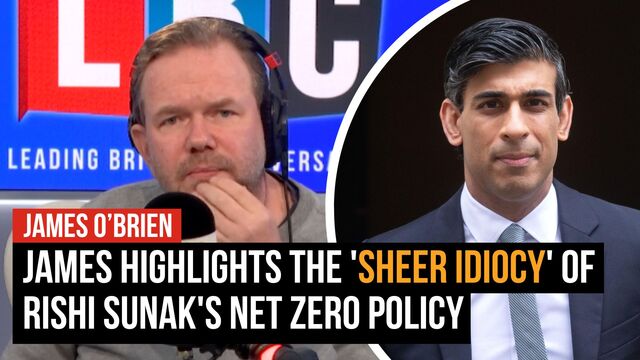 James O'Brien highlights the 'sheer idiocy' of Rishi Sunak's net zero policy
James O'Brien expresses his utter distaste at the Prime Minister's shift in commitments to Net-Zero targets.
The Prime Minister is planning to reverse some of the Net Zero policies that impose a direct cost on consumers.
The proposed move is expected to be announced in a major speech on Friday and could include delaying a ban on the sale of new petrol and diesel cars and watering down the phasing out of gas boilers.
James O'Brien expressed his distaste at the proposed legislation, telling listeners: "I struggled really to understand how a government can press ahead with a motor policy that not only recognises the environmental emergency but also alienates the motor industry".
Deeming the Prime Minister's plans as "objectively incredible", James added: "The sheer idiocy of a policy regarding motor cars that alienates both the motor industry and the environmental lobby".
Continuing his rant, James asserted: "I think it's perhaps one of the stupidest political interventions I've ever seen".
Read more: LBC analysis: Shoplifting soars by 20% in Scotland as thousands more thefts recorded in last year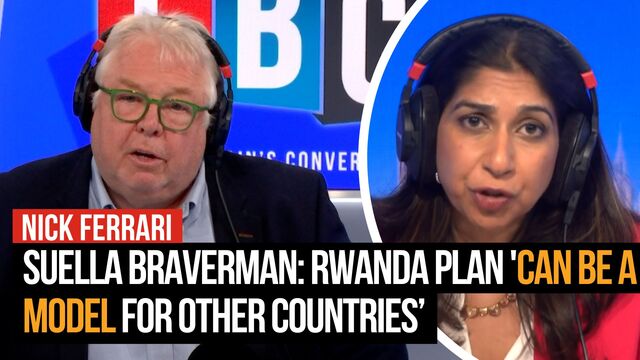 Suella Braverman is confident in the lawfulness of Rwanda plan
Rishi Sunak is anticipated to relinquish plans for new energy-efficiency targets for private rented homes after ministers considered imposing fines on landlords who failed to upgrade their properties.
Acknowledging a text from a listener, which read: "You've completely bypassed the fact that by that time people will still not be able to afford electric cars".
READ MORE: Rishi Sunak 'can't reach Net-Zero by bankrupting the British people', says Suella Braverman
Replying, James said: "You won't have to buy an electric car, they just won't make any more petrol and diesel cars mate, it's a bit like all the people who thought that ULEZ meant they weren't allowed to drive their car around anymore, and they'd have to go and buy a Sinclair C5".
James added: "This is what I mean by misinformation, I can't quite get my head around what bad politics".
Rishi Sunak has recommitted to the target of net zero emissions by 2050, insisting his government was not "losing our ambition or abandoning our commitments" on climate change.