James O'Brien ponders: Is Michael Gove on to a 'real winner' with Renters' Reform Bill?
17 May 2023, 13:31 | Updated: 17 May 2023, 13:47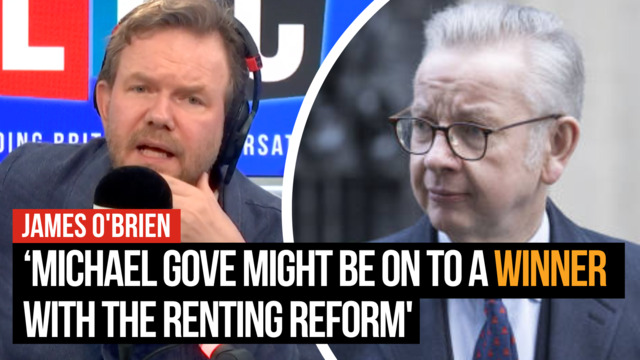 James O'Brien thinks Michael Gove might be on to a winner
Despite being a key member of Boris Johnson's "support squad", James O'Brien queried if the Housing Secretary has finally produced some "good politics".
Listen and subscribe to Unprecedented: Inside Downing Street on Global Player
Urging landlords to share their views with the Renters' Reform Bill, James O'Brien dissected elements of the proposed legislation, asking landlords what their "problem" was with not being able to "chuck tenants out for no reason whatsoever".
Debating whether Michael Gove has produced some "good politics, James reflected on the Housing Secretary's past as co-chair of the Vote Leave campaign alongside being a key member of Boris Johnson's "support squad".
READ MORE: 'Once-in-a-generation' rental reforms unveiled by government include ban on no-fault evictions and right to request pets
Sarcastically deeming the Conservatives as an "absolute cavalcade of talent", James questioned whether the Tory MP has done something "really good", referencing his proposed reform to renting.
Continuing, James queried whether Mr Gove has "bucked the trend, swimming against the tide of sewage, that has both metaphorically and actually been pumped into our waterways, the waterways of public discourse".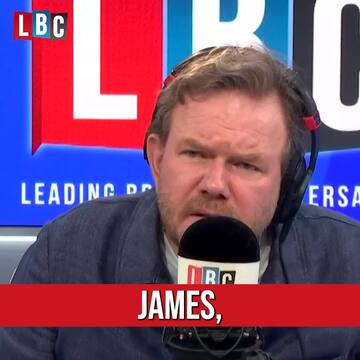 James O'Brien: "You quite like being able to chuck people out for no reason, don't you?"
Concluding his opening monologue, James asked whether Micheal Gove was onto a "real winner here".
READ MORE: Government ditches plan for thousands of EU laws to expire automatically at the end of 2023
The Renters' Reform Bill will abolish no-fault evictions and enable tenants to challenge poor landlords without losing their homes.
If the bill is enacted, people will be granted the legal right to request to have a pet in their home.
Housing Secretary, Michael Gove, announced a new ombudsman will be established to oversee dispute resolutions.