Eco-activists should share 'practical steps' not glue themselves to roads, this caller explains
1 August 2023, 17:56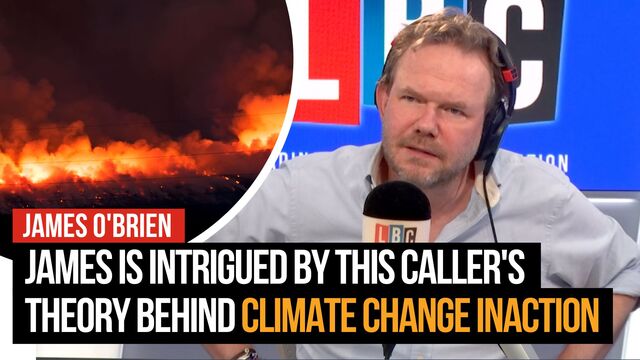 James is intrigued by this caller's theory behind climate change inaction.
This James O'Brien caller says "hyperbolic discounting" is fuelling climate change inaction.
The United Nations' new climate change chief has said that doom-mongers do more harm than good. Professor Jim Skea has warned that apocalyptic messaging "paralyses" the public and stops them from fully understanding the crisis.
This caller, Richard in St Albans, told James O'Brien his theory behind climate change inaction.
Richard said: "You're going to love this phrase, it's called hyperbolic discounting. What it means is, we like certainty, our brains are prediction machines and we're risk averse, therefore this vision of the future we've been told about, we kind of discount it.
"In other words, we devalue it, we minimise it because we favour, we value the present. So by doing nothing, we get an ROI, obviously we call it risk of inaction.
"So that reward today is much, much better than the real one in the future because we've discounted it, we've minimised the future and that's why people do nothing."
READ MORE: Rishi Sunak unveils plan to ramp up North Sea oil and gas exploration with over 100 new drilling licences
Richard went on: "It's the same reason people quit because they don't see the immediate reward, if they just keep going, they would get it.
"So rather than gluing yourself to the road or doing something crazy, what they're better off doing is actually showing us what the future, either good or bad, could look like and giving us some very practical steps, so that we make the future real."
"Return on investment is a classic thing in finance. We want something in the future, but we're not prepared to wait for it. So we just take what we want now and just sod the future basically," Richard concluded.
READ MORE: Rishi Sunak to press on with plans for new North Sea drilling - criticising Labour's position on energy security