'A good day for British democracy': James O'Brien tears into Dominic Raab following his resignation
21 April 2023, 12:19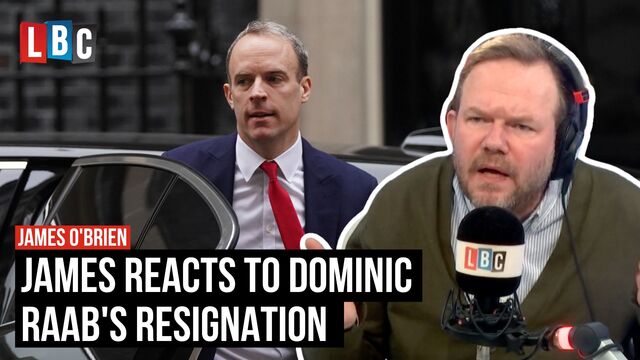 James O'Brien reacts to Dominic Raab's resignation
After the Deputy Prime Minister tweeted his resignation later this morning, James O'Brien showed no mercy, telling listeners it was "a good day for British democracy".
"How much longer can this lot get away with, this catalogue, this absolute avalanche of appalling behaviour?" James O'Brien asked.
"This is actually a good day for British democracy, because, despite his best efforts to wriggle off the hook, he hasn't.
"When Priti Patel was found to have breached the ministerial code with regard to bullying remember, Boris Johnson left her in post and accepted the resignation of the independent advisor who had found her guilty of bullying."
READ MORE: Read in full: Dominic Raab's furious resignation letter to the prime minister
"It's very easy to gloss over those moments of our national decline", James said, adding: "Obviously so much of the media was encouraging you to look the other way or pretending that it was in any way acceptable behaviour such was the cult of Boris Johnson".
"These were moments of national catastrophe whatever your politics are", he continued. "If you are too stupid or too biased to realise that even if it's your lot doing it, the damage to democracy affects us all then you're probably still listening to the wrong programme."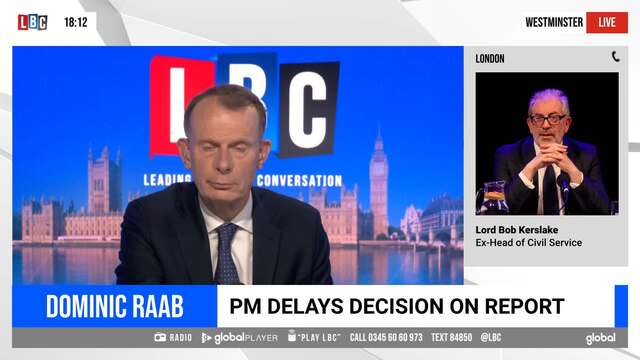 Ex-Civil Service Head Lord Kerslake: 'Behaviour is expected to be higher'
James reminded his listeners of when Dominic Cummings "lied brazenly and blatantly" about driving to Barnard Castle during lockdown, saying "they were all laughing at you".
"I'll tell you one inalienable truth about the last few years of British politics, everybody who accuses the other lot of being sore losers, or of being snowflakes, or of being hypersensitive are the biggest whining, muling, puking infants you could ever encounter in a millions years in public life", he continued.
"Oh it wasn't me, oh it's not fair, oh I didn't mean it, oh can he have his job back!" James said in mock imitation.
READ MORE: Andrew Marr: Dominic Raab's future hangs on question of what is acceptable in the workplace today
"Whatever your politics, if you've got three brain cells, there will come a day sooner rather than later when you realise what's being done to you by the people you thought were on your side. So today is a good day because the wriggle has failed", he growled.
"A man who pledged to resign if he was found to have been a bully has resigned because he's been found to have been a bully", the radio presenter definitively stated.
Andrew Marr looks at how the Dominic Raab report highlights evolving workplace culture
James also expressed his displeasure with that way some ministers are able to "segue effortlessly to the backbenches" after scandals like this.
He asked his listeners: "How would you feel about that - your boss has been demoted for bullying you and now he sits next to you in the office?"
James began reading through his resignation letter, adding a translation that he felt was more accurate.
"I have wriggled violently in a desperate attempt to get off the hook of the consequences of my own conduct in exactly the same way that many of my colleagues have done since Brexit - from Priti Patel, to Dominic Cummings, to Suella Braverman to Owen Paterson", he said.
He burst into uproarious laughter after reading: "'I believe it is important to keep my word'... says a man who lied about the judicial system, court backlogs and of course lawyers in general."
"Good God we've fallen so far", James said, also reminding listeners of how the former Deputy Prime Minister stayed away while Kabul came under the control of the Taliban.