'I will vote Tory negatively': Matt Frei caller refuses to vote Labour because of their 'past'
22 July 2023, 14:53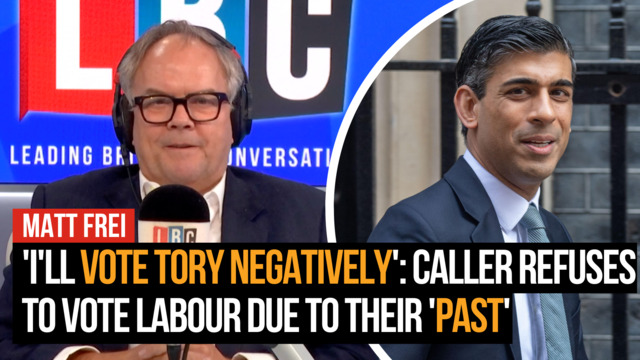 Matt Frei discusses the next General Election with a loyal Tory
This Matt Frei caller says the "two horse race" between Labour and Conservative means she "wouldn't dare waste" a vote on the Greens or the Liberals.
The Prime Minister has said that the next general election is 'not a done deal' after the Conservatives held on to Uxbridge and South Ruislip in the by-election.
This caller, Jane in Hatfield, told Matt Frei that whilst she would be "negatively" be voting for the Tories, she would be voting that way to avoid a Labour government.
READ MORE: Conservatives urge Rishi Sunak to scrap 2030 ban on petrol car sales after Ulez blamed for Labour by-election loss
Jane said: "It's just such a two horse race, you might not want Conservative anymore but you wouldn't dare waste your vote on the greens or the liberals.
"Of course with people who are very staunch Labour, you do get a lot of the socialist types saying, 'You're Tories, you're awful people because you vote Tory.'"
Matt Frei asked: "Will you still vote Tory at the next election then?"
"I will but very negatively," Jane confirmed.
Matt said: "What does that mean? Holding your nose?"
Jane clarified: "I'm not with my whole heart in it. It's a vote so that we don't get a Labour government."
READ MORE: 'I am never going to vote for her': Caller refuses to support Labour after Deputy Leader's Tory 'scum' comments
Matt pushed further: "What are you afraid of with a Labour government?"
"Oh, just the past..." said Jane.
Matt cut in: "What do you mean the past?"
Jane responded: "Well, it's the Jeremy Corbyn type, very socialist-"
Matt stated: "But he's not standing, Jeremy Corbyn. I mean the beef of the Corbynistas in the Labour party is that their politics, their policies, their ideas have been completely stamped on by Keir Starmer."
"I know, but once Labour get back in, they might climb back up-" Jane replied.
"Once a red, always a red, that's what you think Jane!" Matt concluded.
READ MORE: 'This is a sweet victory for the Labour Party', says Lewis Goodall as Keir Starmer celebrates Selby success