'I am never going to vote for her': Caller refuses to support Labour after Deputy Leader's Tory 'scum' comments
21 July 2023, 18:36 | Updated: 25 July 2023, 14:42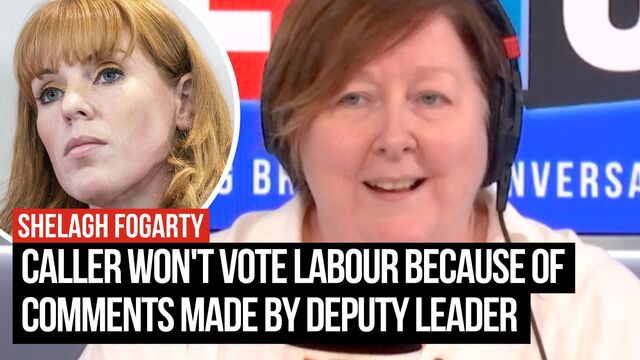 Caller won't vote Labour because of comments made by Deputy Leader
While this Conservative tells Shelagh Fogarty he won't vote for the Tories at the next election, he insists Labour is not an option either because of comments made by their Deputy Leader.
Shelagh Fogarty spoke to this caller after Ms. Rayner reportedly told an audience at the Labour Party conference that the government is made up of "a bunch of scum" that are "homophobic, racist, misogynistic".
The Deputy Leader has defended the comments, saying they were made to an audience of Labour activists "post-watershed".
He said: "Predominantly I am a Tory voter, but I don't like the current Tory Party, I'll be clear about that.
"But I also cannot vote Labour as long as Angela Rayner is there because Angela Rayner thinks people like me are scum and she's never apologised for that. If it's dragged out of her she won't mean it because she really does think we're scum."
READ MORE: Angela Rayner apologises 'unreservedly' for calling Tories 'scum' at conference
The call comes after Labour won the by-election in Selby and Ainsty in the final of three crucial results.
The by-elections were triggered after three MPs stepped down amid separate controversies.
The caller continued: "She clearly hates Conservatives, hates with a capital H."
Shelagh interrupted: "Do you not think there are Conservatives who hate Labour people?"
The caller replied: "Yes there are but they don't use the language that she uses...
"She's a venomous member of the Labour Party that hates people like me and I'm never going to vote for that party while she is there."
READ MORE: Angela Rayner refuses to apologise for calling Tories 'scum' and 'racist'