'In Great Britain people should afford food': Caller is distraught over the inequality in the UK
17 August 2023, 16:06 | Updated: 17 August 2023, 16:07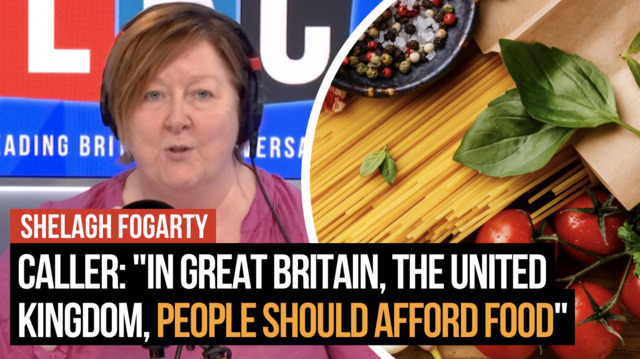 Caller wants 'total review' of benefits system
Shelagh Fogarty heard from a distraught caller who "lies awake at night" thinking about inequality in the UK, calling for a "total review" of the benefits system.
Following the news that Rishi Sunak will keep the pension triple lock despite its forecast £10bn cost, Shelagh Fogarty asked listeners if universal benefits are fair, prompting a Jim from Glasgow to say: "I just see this country is really for the rich, they are getting richer and the poor are getting poorer."
He continued: "It really bugs me that you work all your life and we have a pittance of a pension."
Under the triple lock, pensions rise each April by whichever is highest between pay growth, inflation, or 2.5%. Following a period of soaring inflation, which has seen the cost of the scheme surge since 2022, the government's spending watchdog has questioned the system's long-term viability.
Despite this, Rishi Sunak has pledged to stick to the pension triple lock even though the guarantee to older people will cost the Treasury an extra £10bn next year – £2.5bn more than estimated in the spring budget.
Read More: A-levels get tough: Results worst in four years as Ucas website crashes amid scramble for university places
Jim told Shelagh: "I feel sorry for young people, I lie awake at night...it gets me and I'm thinking there's mothers and fathers sitting there that cannot get…"
Unable to finish his sentence he then said: "It just you know… it gets to me."
Reflecting on the significance of this inequality he added: "It shouldn't be like that in Great Britain, the United Kingdom, people should afford food, school uniforms. This country…I'm sorry."
Rounding off his call Jim said: "I think we should have a total review of the whole system…we need a whole new root and branch."
Read More: Met police officer charged with rape and strangulation among raft of other violent offences