Shelagh Fogarty displeased by Mr Sunak's 'boring' and 'head boy' toned speech
4 January 2023, 15:42 | Updated: 4 January 2023, 15:49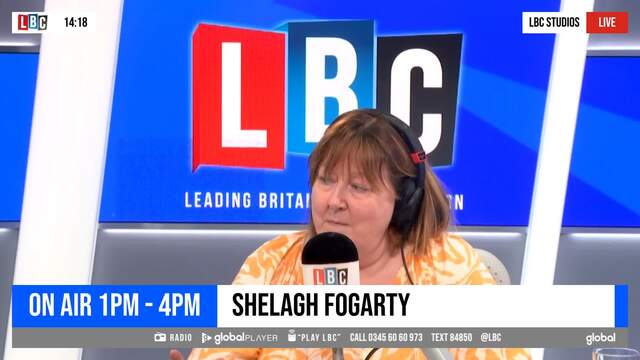 Shelagh Fogarty is astounded by Rishi Sunak's 'head boy' toned New Year speech.
"At worst it's a kind of CBeebies bedtime story tone", Shelagh Fogarty gave her take on Rishi Sunak's speech today.
Today the Prime Minister stood at London's Queen Elizabeth Olympic Park and delivered a speech including five pledges for Britain.
In her show, Shelagh Fogarty played out the live speech and interjected at one point before its conclusion to give this take.
READ MORE: PM's five pledges for Britain: Halve inflation, grow economy, slash debt, cut NHS waits and tackle channel migrants
She said Rishi Sunak acknowledged "all kinds of issues" with "sweeping statements" in "head boy type tones".
"Right now Prime Minister, elderly people are lying on hospital floors, people with peritonitis are sleeping in their cars in hospital car parks, people are in their own homes waiting thirty-three hours for ambulances.
"That's what you need to talk about, today and every day until that is resolved," she declared.
Shelagh shared annoyance that the struggles in the NHS were only mentioned by the Prime Minister in a "fleeting moment at the start" of his speech.
"It's a boring speech and I would pull out of it if we weren't in such dire straits in this country," she said before letting the live speech continue.
Shelagh Fogarty: 'It's a kind of CBeebies bedtime story tone'
After the entirety of his speech, Shelagh gave a breakdown of her feelings towards Mr Sunak's performance.
"Having listened to the twenty-five minutes that could have been condensed into maximum ten minutes, probably easily five to seven minutes.
"It's like a head boy's speech in tone or at its worst, it's a kind of CBeebies bedtime story tone."
READ MORE: James O'Brien presses Mick Lynch on his Brexit support potentially lowering workers' rights