'This is a war against Hamas!': Distraught caller wants Israel and Palestine to take down the 'enemy' together
11 October 2023, 17:07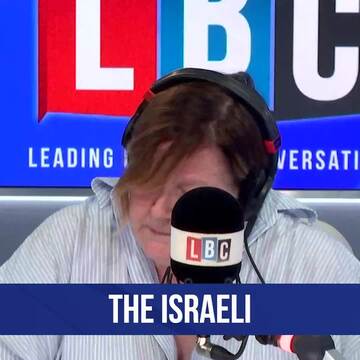 Devastated caller wants Israel and Palestine to unite and take down the 'enemy' together
This caller tells Shelagh Fogarty that Israel and Palestine must 'work together' against Hamas.
Caller Or in Walthamstow began telling Shelagh that the Israeli military response is not a "retaliation," reiterating that "nobody deserves" what is happening in Gaza.
He stated: "This war is not a war between Israel and Palestine, not in a moment...this is a war against Hamas!"
"Israelis and Palestinians need to work together against this Shelagh, this is awful," Or said, deep in emotion.
The Palestinian group Hamas attacked Israel on Saturday, triggering an Israeli response in the form of a 'complete siege' on Gaza, leaving the territory with no food, energy, or fuel.
Or then told Shelagh of his friends on the Gaza side: "If they would be in the position that Hamas is kidnapping their son or their daughter and telling them that they have to go and fight and if they don't kill enough Israelis then their son will be dead."
"It's a war about different morals," he continued.
READ MORE: British man Jake Marlowe confirmed dead in Israel after Hamas massacre
READ MORE: Foreign secretary James Cleverly forced to run for cover after Hamas rocket alarms set off in Israel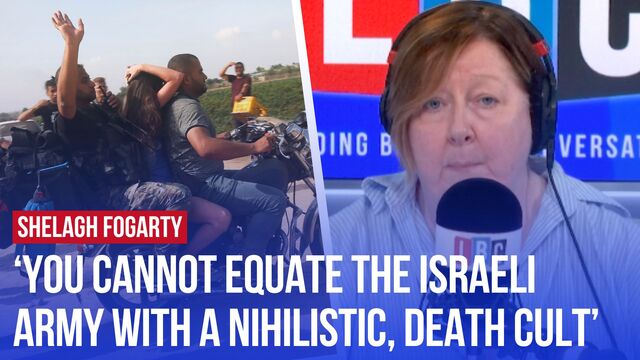 The Israeli army cannot be equated to Hamas says Shelagh Fogarty
He exclaimed in despair: "My grandmother spoke Arabic, only Arabic, she looked exactly like any of those women on the street right now, running with their children."
"I refuse to believe that there is a majority calling for this."
He concluded with a desperate plea: "Anyone who wants to support Palestine please, stop supporting Hamas!"
Clashes continue as death tolls rise on both sides, with at least 2,100 killed in total in the conflict so far.