Ex-cop claims police forces are 'encouraged' to be 'scared of black men'
18 July 2023, 16:53
Ex-policeman: White officers are 'scared' of black men
After Sir Mark Rowley announced plans to reform the Met, this ex-police officer says the commissioner will achieve "absolutely nothing".
As Met Commissioner Sir Mark Rowley reveals plans to overhaul the police force, this ex-police officer, Derek in Beckingham, outlined to Shelagh Fogarty the racism he received from white officers during his service.
This comes after the report by Baroness Casey revealed shocking failings within the UK's biggest police force.
Derek said: "Unfortunately, Shelagh, if the white males in the police are honest, they're just scared of black men. It's fear that drives a lot of what you're listening to and I saw that when I joined the police.
"You'd walk into a room and could physically feel that people were scared of you."
He continued: "They're naturally encouraged to be scared of black men -"
Shelagh cut in: "They're encouraged to be? By whom?"
The former officer responded: "Well, by the culture, when you join, the police have to have a bogeyman. There's an enemy. If you're fighting crime, there has to be something you can attach to who you're fighting against and a lot of the time, that natural fear of the black man rises to the surface."
READ MORE: More 'visible' policing on London's streets to help restore trust, Met Chief tells LBC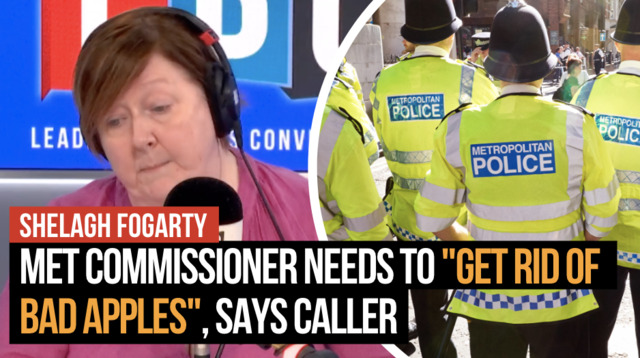 Caller demands that the Met Commissioner 'gets rid of bad apples' through 'psychological testing'
Derek went on: "Officers who I liked and got on with would say to me, 'Derek you're not scared of us, we're scared of you.'"
Shocked, Shelagh asked: "They'd say it explicitly?'
Derek confirmed: "They've said it. I could give you so many examples of where their fear was palpable."
READ MORE: Daniel Morgan's family to receive £2m over Met's murder probe failings in one of British policing's biggest ever payouts
The former officer forewarned: "You'll be having this conversation in five years' time, it will still be that they're scared..."
Shelagh asked Derek if he believed that Mark Rowley would achieve anything with his reformation plans.
Derek responded: "Absolutely not. For me, when I was in the police, I just thought, why can't these people just be honest and say things as they are and we would perhaps get somewhere."
READ MORE: Met to treat male predators the same as terrorists in £366 million plan to overhaul force