Tories have had 'no vision' apart from Brexit, states Shelagh Fogarty
17 May 2023, 17:23 | Updated: 17 May 2023, 17:28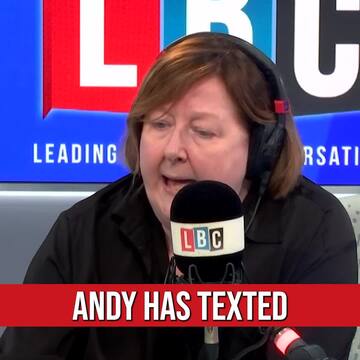 Shelagh Fogarty says we haven't had a 'proper functioning' government for a 'long, long time'
The UK has endured "absolutely awful years of bad governance" exclaimed Shelagh, following a heated discussion on the housing crisis.
Shelagh received a text from listener Andy, which read: "More housebuilding will only work if immigration is controlled or houses will be built, more will arrive and so on.
"Nothing will change in overpriced houses."
Reacting to the message, Shelagh stated: "Clearly they're linked, housing and immigration, any human being in the country and housing are linked.
READ MORE: James O'Brien ponders: Is Michael Gove on to a 'real winner' with Renters' Reform Bill?
"But again, if there is proper thought, proper planning, pragmatism, honesty, about both, they needn't be in opposition to each other".
Shelagh stated that there "needn't be a crisis" exclaiming: "Have you woken up yet to the absolutely awful, years of bad governance" the UK has endured?
READ MORE: Harry and Meghan pursued by paparazzi for two hours through New York in 'near catastrophic' car chase
Continuing, Shelagh claimed that the UK had suffered "various implosions" caused by the Conservative Party, including Brexit.
Listen and subscribe to Unprecedented: Inside Downing Street on Global Player
The conversation arose as Labour leader Sir Keir Starmer announced he would build on green belt land to boost housing.
Claiming the UK has lacked a "proper functioning government for a long, long time", Shelagh hoped the Labour Party "has some vision".
"I hope they [Labour] have one [a vision] because the Tories certainly didn't, apart from their Brexit vision - and look where that's left us," she concluded.
Sir Keir Starmer said his party would grant local authorities permission to build on the greenbelt where it would not spoil the beauty of the countryside.
He also claimed that house prices would come down if a Labour government had the capacity to build more houses.