Shocking scans show Angel Lynn's double skull fracture after falling out of van following kidnap by ex-boyfriend
10 May 2023, 13:46 | Updated: 10 May 2023, 15:02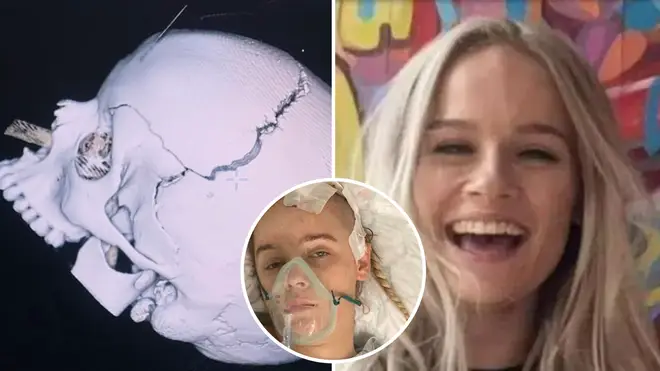 Horrific scans of a woman who was left with a double skull fracture, brain damaged and paralysed reveal the extent of her injuries.
Angel Lynn, 22, from Loughborough couldn't eat, walk or talk after falling headfirst out of a van moving at 60mph in September 2020. She had been bundled into the van by her ex-boyfriend Chay Bowskill.
Her family were told she wouldn't survive, and she was given last rites three times at Queen's Medical Centre in Nottingham.
However, the 22-year-old has now astonished medical professionals, as nearly three years on from the incident, she has managed to stand again.
CT scans suggest that Angel's skull was fractured twice - once across the top of the head and down the left side of her skull, and another across her forehead and into her eye socket.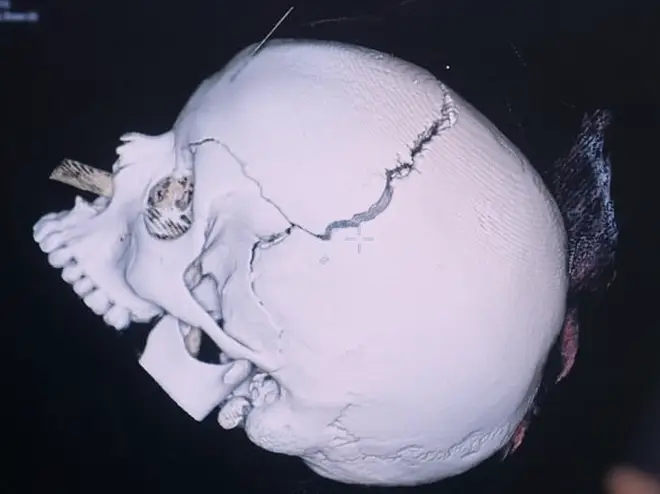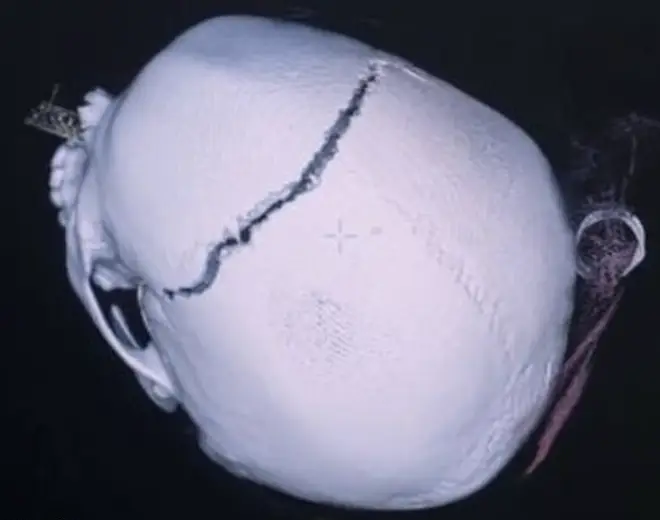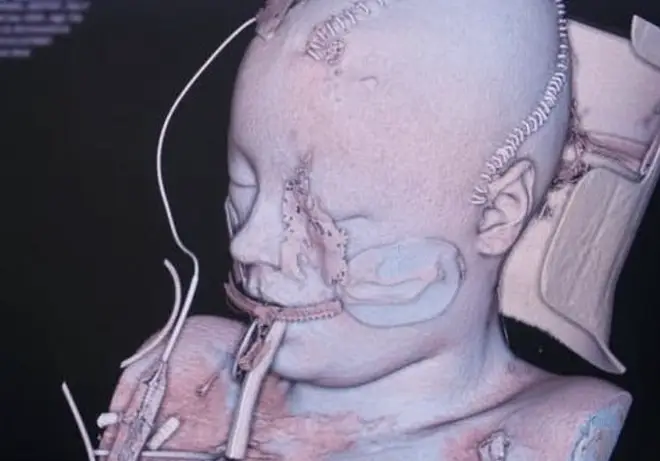 Another image showed how her nose, eye socket and cheeks were hurt in the catastrophic fall from the car.
Speaking in a Channel 4 documentary about her plight, consultant neurosurgeon Stuart Smith said Angel had clearly suffered "very severe" injuries.
Pointing to the scans, he said: "This area here is fractured, it's been split open from the force of the impact.
"To fracture the skull to that degree takes an incredible degree of force.
"Her injury was so devastating and so severe, there was a very real chance that Angel wouldn't survive."
Her mother Nikki earlier said she has no memories of the attack or her kidnapper Bowskill, who is serving 12 years in prison for kidnap, coercive and controlling behaviour, and perverting the course of justice.
On Tuesday, Nikki, 48, told LBC's Shelagh Fogarty: "We thought she was having some flashbacks, but I have asked her if she remembers and she doesn't. I gave her some options like 'was your accident a bike, a van or a car?' And she said a bike."
Mother of kidnapped Angel Lynn speaks to Shelagh Fogarty
"Asked if she remembers her attacker, she said: "No I don't think she does remember him, you know. I've asked her if she remembers Chay and she puts her thumb down. There may be a lot of blocking it out."
Asked about the extent of Angel's recovery, her mother said: "She can write things down. She does things like choose her own clothes. She's standing with a little bit of support. They're trying to walk her.
"She's been swimming. She walks perfect in the pool. That's good, we're going to do some more of that.
"She can do quite a few things now… she's going to be going into a less supported wheelchair now".
Nikki added: "She keeps fighting back. She gets a bit down sometimes. She was a bit miserable yesterday. She says she's sad sometimes. You've just got to keep going, keep trying to keep your spirits up."
Asked about how Angel's speech is recovering, she said: "They're still doing speech and language [therapy] with her. She's still fighting. She'll make the odd groaning noise if she is in pain, but that's it.
Nikki said that Angel's therapists "really don't know [about more speech recovery]. We're going to have some tests done, if we can, to see what the damage is and if it can come back. Just waiting on that now."
Bowskill's sentence was increased to 12 years on appeal. Nikki said: "I am pleased that he got longer, but compared to what my Angel's got to go through, it's probably going to take her that to recover properly. She needs that much help."
Nikki, who is hoping that Angel's case will help raise awareness of coercive and abusive relationships, said earlier: "When Angel went into the rehab unit I couldn't see any future with her getting better.
"But she has improved so much it's unbelievable. Angel is definitely in there.
"I will write a question on her iPad and she will write her answer. I asked her what car she wanted and she wrote 'grey Audi'.
"Angel is doing everything they said she wouldn't."
Angel has progressed so much recently that she will soon be able to move from her rehabilitation unit back into her family home, which is having building work finalised to support her.
Read more: Woman survives on wine for five days after getting stranded in Australian bush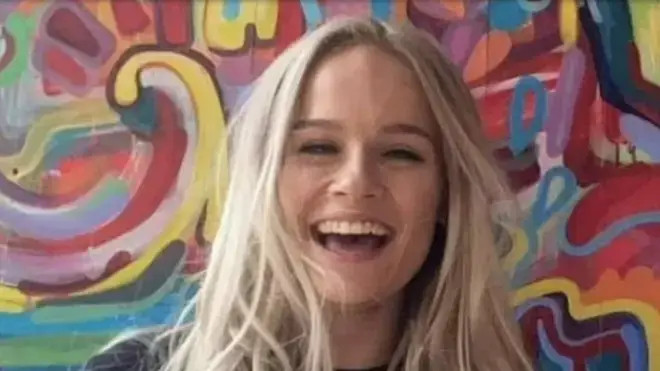 The college student was kidnapped by her ex-partner Chay Bowskill in September 2020, who picked her up and forced her into a van.
Harrowing footage caught on CCTV showed the moment she was captured by Bowskill, who became increasingly hostile towards the end of their relationship, which is when Angel tried to leave him.
Bowskill, kidnapped her with the help of accomplice Rocco Sansome.
In January 2022, Bowskill was sentenced at Leicester Crown Court to seven and a half years in prison for kidnap, coercive and controlling behaviour, and perverting the court of justice.
This sentence was later increased to 12 years after senior judges at the Court of Appeal decided his first term was not long enough, handing him an extra four and a half years.
But he was cleared of causing grievous bodily harm, as it remained unclear how Angel fell out of the van.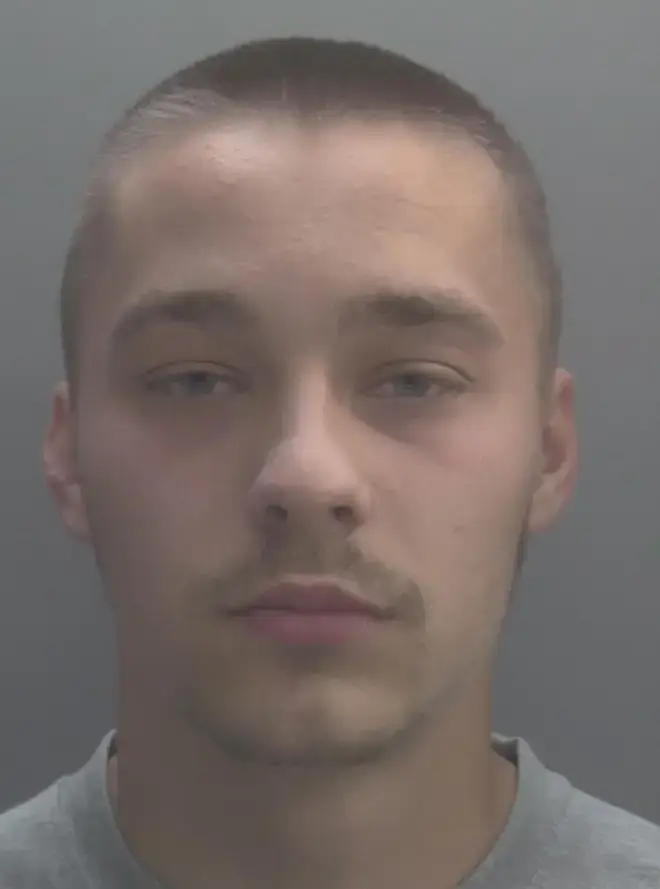 Read more: Footage shows moment police gun down two dogs and Taser man after tense stand off as Met insists animals posed threat
Angel's mother hopes that one day she'll be able to hear from her daughter directly exactly what happened.
Nikki said: "I do think she was pushed because of the injuries she suffered, the force with which she hit the ground.
"I know it won't change things but I'm hoping one day she will speak and tell me what happened."
Bowskill's accomplice, Sansome, who drove the van holding Angel was sentenced to 21 months in prison.
Before the incident, the 22-year-old victim was a college student and part-time cleaner. She met Bowskill through a mutual friend about a year before the incident.
Angel's mother said Bowskill confessed in court that the last thing he said to his ex-girlfriend was: "I f*****g hate you, b****."
A new documentary, The Kidnap of Angel Lynn, aired on Tuesday on Channel 4.
Angel's family are fundraising for her recovery here.