Andrew Marr: President Zelenskyy is the 'nearest equivalent' political leader to Nelson Mandela
8 February 2023, 16:00 | Updated: 8 February 2023, 16:08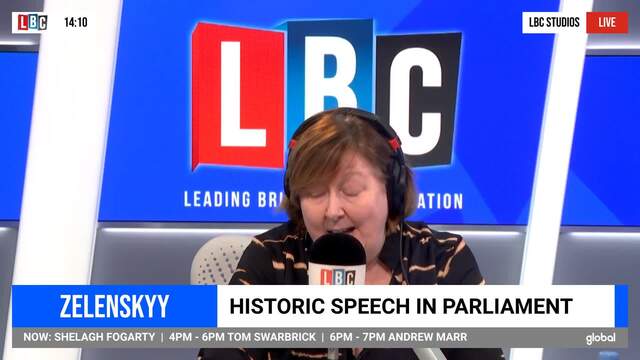 Andrew Marr says Nelson Mandela is the 'nearest equivalent' political leader to President Zelenskyy
President Zelenskyy's speech in Westminister Hall has been compared to Nelson Mandela's speech in 2003, Andrew Marr told Shelagh Fogarty as he said the Ukrainian President is the "nearest equivalent" political leader to Mandela.
Andrew Marr was present at Westminister Hall for President Volodymyr Zelenskyy's address to the UK parliament.
He told Shelagh Fogarty that he reflected on the significance of the event, remembering that the late Queen Elizabeth's funeral was the last major ceremony held there.
Shelagh said she can't remember a political leader who had prompted such a response from the entire "world".
Andrew agreed and said that out of all the momentous occasions held in the hall, Zeleneskyy's speech felt most similar to Nelson Mandela's speech made in the same building in the early 2000s.
READ MORE: Ukrainian refugees could be facing discrimination from landlords, LBC understands
"Someone who has come [from] seeing real suffering, real hardship, real pain and death on the front line of a Titanic world struggle.
"And Mandela seems to be the nearest equivalent in my lifetime."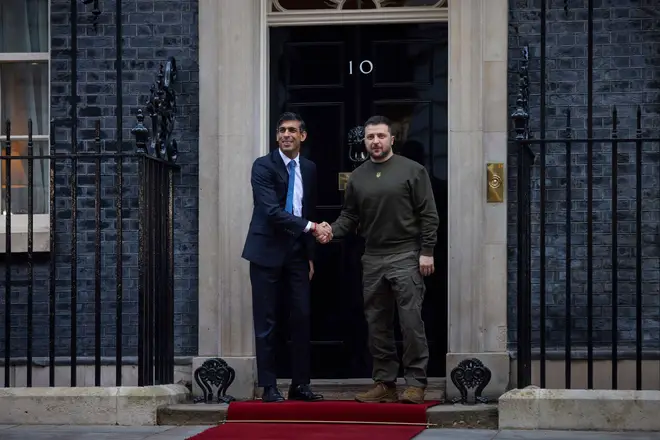 In 2003 Nelson Mandela addressed the British Parliament to thank Britons for their support during the battle to abolish South Africa's apartheid.
Andrew Marr illustrated the camaraderie he witnessed in Westminster hall for Zelenskyy's address: "People from the Labour left and the Tory right all standing together, all applauding together."
READ MORE: 'Wings for freedom': Zelenskyy thanks Britain for support as he asks for fighter jets in historic Parliamentary address
He went on to call the President a "very, very clever political communicator".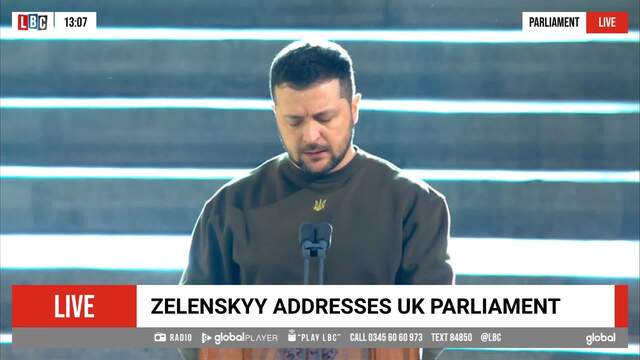 Zelenskyy says 'thank you' to Brits as he addresses the UK parliament
Shelagh pointed out Zelenskyy's statement that a Ukrainian victory would "change the world". This inspired Andrew Marr to ask what lies beyond a defeated Russia.
"[Zelenksyy] did say wars don't end, human evil always returns somehow... The best possible outcome would be the complete collapse of Russian forces including in Crimea," Andrew started.
"Just suppose the Russians completely collapse and Vladimir Putin falls... we still have a nuclear-armed, very angry, very humiliated, very large country.
READ MORE: Putin amasses 500,000 troops for 'new Ukraine invasion' ahead of war's first anniversary
"A lot of whose political elites are to the right or in the fascist direction - from Putin himself."
He asked: "So, what follows Putin are we absolutely sure this is going to be an easier, happier and safer world?"
Shelagh pointed to the hurt occurring in Ukraine which may stop them from looking at anything further than victory.
Andrew agreed but said: "We in the Wes should at some point start to think about: what is the end game, how does this war end? Because all wars end eventually"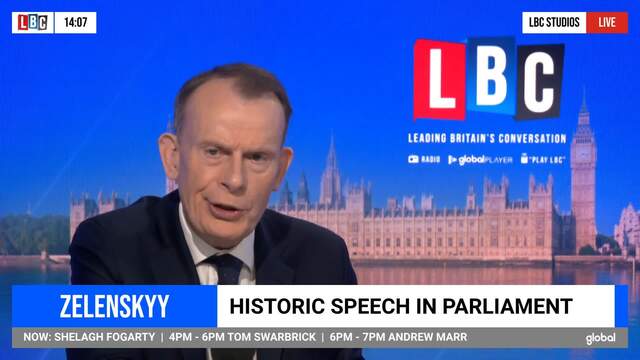 Andrew Marr: What follows a Ukrainian victory?