The Tories have 'debased' the UK's parliamentary democracy with their lies, says Shelagh Fogarty
24 March 2023, 16:59 | Updated: 24 March 2023, 17:04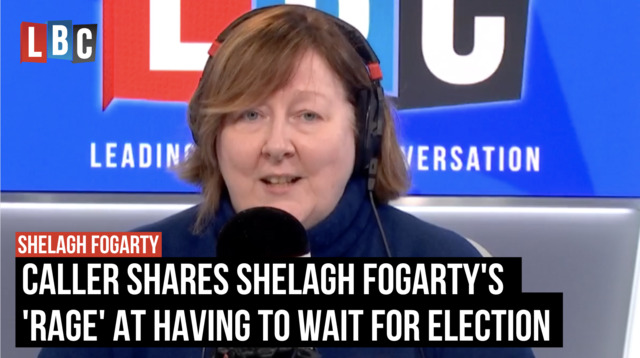 Caller shares Shelagh Fogarty's 'rage' at having to wait for election
After Boris Johnson faced the Privileges Committee this week to explain his actions during Partygate, Shelagh Fogarty told her listeners that the Conservatives have been "playing with the truth".
The Tories have "debased our parliamentary democracy", Shelagh Fogarty said. "They've debased it with the lying, with the playing with the truth, if not out-and-out lying."
She described the "spectacle" of yesterday's Question Time studio audience - predominantly Tory voters - being asked by Fiona Bruce to raise their hand if they believed Boris Johnson was telling the truth while being questioned at the Committee hearing: "Not a single hand went up."
READ MORE: Read it in full: Boris Johnson's Partygate defence revealed
Shelagh said Rishi Sunak appears to "bring a pragmatism to politics", yet "allows Suella Braverman to tell lies and make damaging, exaggerated, untrue statements about immigration to this country and the needs of refugees coming to this country".
READ MORE: Suella Braverman faces backlash over claim 'billions' of people are trying to reach UK
"He sits by and lets her do that, when he knows better", Shelagh said. "I often wondered about Boris Johnson, whether he knew better, but Rishi Sunak does know better and yet he allows certain things to pass that I certainly wouldn't if I were in charge of Suella Braverman as a boss."
Shelagh Fogarty and Andrew Marr on Partygate hearing
"Then you've got Steve Barclay, the Health Secretary, sending puerile tweets out at 10 o'clock at night about really important health worker disputes that affect every one of us", the radio presenter added, explaining that her sister-in-law is "afraid to look at the news" about junior doctor strikes while she awaits a "life-saving operation" that has been cancelled twice already.
She returned to the "extremely wealthy" Rishi Sunak paying 22% in tax.
READ MORE: Rishi Sunak reveals he paid £400k in tax last year as he releases long-awaited return during Johnson grilling
"He does it legitimately, but he does it, and then tells other people that they can't do things legitimately because it's not in the spirit of things", Shelagh said.
She also pointed out the "billions of pounds" of fraud that took place during the pandemic, adding there have been "no real attempts to get that back".
"There's something rotten in our state at the moment", she said.