'Hypocrisy in the extreme': Political journalist brands Labour's twitter graphic 'absolutely disgraceful'
7 April 2023, 17:01 | Updated: 9 April 2023, 14:47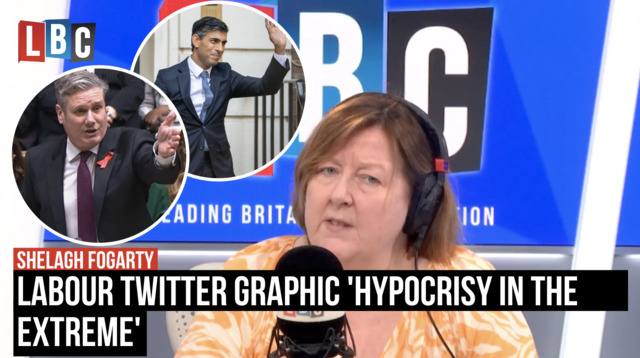 Labour twitter graphic 'hypocrisy in the extreme'
Political journalist Micheal Crick brands Labour's Twitter poster as hypocritical, saying: "The whole thing stinks frankly."
Michael Crick told Shelagh Fogarty that the Labour Party has a "bit of cheek really", before stating: "This is a party that in the last decade has turned a blind eye to grooming gangs in certain northern cities."
The comments were in reference to accusations surrounding a Labour Council's failure to curb child sex abuse in areas such as Rotherham.
READ MORE: 'Absolute carnage': Rail passengers furious as thousands cram into stations on 'Bad Friday' - as Dover delays worsen
The discussion comes amid controversy over a new Twitter advert from the Labour Party which inferred that Prime Minister Rishi Sunak did not think adults convicted of sexually assaulting children should go to prison.
Michael said: "It's disgraceful...it's dishonest and it's a lie essentially."
He went on to criticise Labour leader Keir Starmer, who is the former Director of Public Prosecutions, saying someone who held that position should know that MPs do not play a part in decisions on individual cases.
READ MORE: 'It's a skit!': Senior Labour MP defends advert claiming Rishi Sunak does not believe child sex abusers should be jailed
However, he conceded: "The Conservatives have put out some pretty disgraceful campaign ads in the past."
Then he gave an example of a Conservative campaign advert in the London mayoral election. That advert portrayed the Labour candidate at the time, Sadiq Kahn, saying council taxes would increase.
He went on to warn: "The danger here is this becomes an arms race...and the next time the Conservatives respond they'll go even more over the top."
Speaking to LBC's Andrew Castle on Friday, Shadow Culture Secretary Lucy Powell defended the advert saying: 'These sort of political campaigns, we've all been on the receiving end of things like this...it's highlighting what I think is a very serious issue that needs dealing with that I think the average Labour voter is really worried about."
However, Labour backbencher John McDonnell has urged the party to take the advert down, saying: "We, the Labour Party, are better than this."