Caller hits out at Prince Harry's use of 'unconscious bias' to 'defend racist, ingrained views'
9 January 2023, 17:48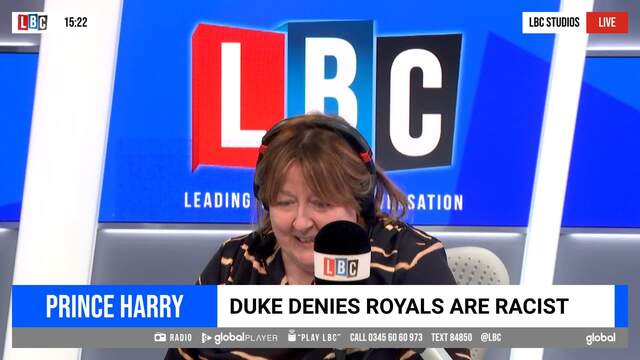 Caller 'uncomfortable' by 'unconscious bias' to 'defend racist views'
Caller says Prince Harry's use of the term "unconscious bias" is "defending racist, ingrained views".
This caller told Shelagh Fogarty that he is "very uncomfortable" by people using the term unconscious bias to "defend racist, ingrained views" after Shelagh asked listeners: "Is there a difference between unconscious race bias and racism?"
This comes after Prince Harry denied accusing members of the royal family of being racist, claiming instead that it was "unconscious bias", in an exchange with Tom Bradby on ITV.
The caller told Shelagh: "I think Harry is a very messed up individual coming from a messed up family" and went on to brand the Royal Household as "dysfunctional".
READ MORE: Prince Harry denies he and Meghan said royals were racist in Oprah interview
The caller also said: "I can't understand why people are try to hold Prince Harry up as a beacon of anti-racism, I'm a person of mixed race heritage and to my mind Harry didn't give a damn about the race issue."
He accused Prince Harry of "using the race issue to weaponise his attack on his family that he's fallen out with".
READ MORE: 'It's the intent that makes it racist': James O'Brien caller insists racism and unconscious bias aren't the same