'I wasn't listened to': Caller's daughter suffered 'seven years' of health problems after midwife ignored her
18 April 2023, 20:32 | Updated: 18 April 2023, 20:44
Caller shares 'horrific' labour story
This distraught mother explained how her daughter experienced serious long-lasting health difficulties after her midwife wrongly concluded how far along her pregnancy was.
Charlene in Birmingham told Shelagh Fogarty that when her baby's measurements were taken while registering her pregnancy, the healthcare professional was "adamant" that she could tell how many weeks along she was from that data.
The mother says she knew that couldn't be right, based on when her last period was, but the midwife refused to listen, so she kept her own record of dates in a prenatal book.
"Every time I went to a visit I would tell them this is my actual date, and they were like 'Nope, we're gonna take what your midwife has put down'", she said.
"Fast forward to labour...the labour was horrific. It was for two hours, so some people might think it was fantastic, but it wasn't", she continued.
When her waters were broken by the midwife, the colour was a "forest green, black", due to the levels of meconium. She told Shelagh that this concerned her doctor.
"When he saw that, he said you are three to four weeks overdue", the caller in Birmingham said breaking down in tears.
"What?!" Shelagh exclaimed in shock, which her caller confirmed.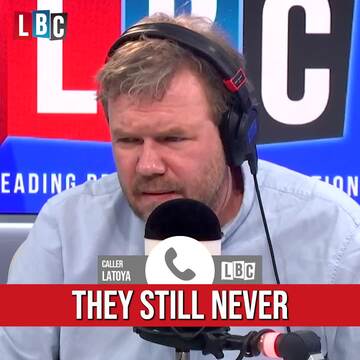 Caller: 'They never checked to see if my baby was breathing!'
READ MORE: 'They never checked if my baby was breathing!': Black mother 'disregarded' during the birth of fifth child
Charlene needed an emergency C-section, but it was not until the next day, 12 to 18 hours later, that her baby was rushed to intensive care from inhaling the meconium, developing sepsis.
"I was like 'Oh my God, what's happening? They're taking my baby!'" the distressed mother wailed. "This all stemmed from not being listened to. If they listened to me, none of this would have happened."
"For the first seven years we were in and out of hospital", she added, explaining a whole host of medical and developmental complications that her daughter suffered, including problems with balance and resistance to antibiotics for other illnesses after taking them for so long to stamp out the sepsis.
Charlene's daughter, now 14, is much better, with her proud mother describing her as a "fantastic young lady".
This call comes as the Women and Equalities Committee are calling on the government to address the "appalling" racial disparities with maternal death.
The MBRRACE-UK annual report for 2022 states that Black women were 3.7 times more likely to die than white women, while Asian women were 1.8 times more likely to die than white women.