'She sounded like a really pleasant bigot - a racist!': Shelagh Fogarty callers discuss migrant integration in the UK
11 May 2023, 14:08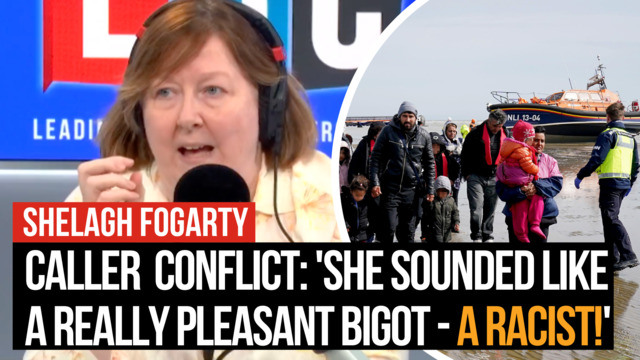 Shelagh Fogarty hears from passionate callers with conflicting opinions on 'migrant crisis'
Shelagh Fogarty hears from these passionate callers with conflicting opinions on integrating migrants in the UK.
Caller Maria kickstarted the controversial conversation, stating to Shelagh Fogarty: "What we are seeing on the streets now are lots and lots and lots and lots of brown-skinned people speaking different languages."
Maintaining her rhetoric, the caller shared her dissatisfaction with her neighbours "speaking their own language" exclaiming that she felt "overwhelmed".
Continuing, she shared her observations with Shelagh stating: "Their way of life is, and I've seen this actually over the last couple of months, they come alive at half past ten at night, and I'm going to bed."
Swiftly following on from Maria's call, Sophie shared her conflicting views, saying: "Your caller [Maria], she had a very sweet voice, but she is what is endemically wrong with people."
Questioning Maria's viewpoint, Sophie said to Shelagh, "This argument that you've got to assimilate, well when the British went to India, did the crinoline-wearing women start wearing saris?"
READ MORE: James O'Brien asks why the government calls key British figures 'enemies of the people'
Sophie outlined what being British means to her, saying "British to me is being a democracy, its the rule of law, its equality, it's not inclusion, it's pluralism where everybody is equal, where you can look how you want and speak what language.
"We celebrate languages, we celebrate colour, we celebrate religion, and the Head of the Church of England seems to understand that more than others".
Concluding her statement to Shelagh, Sophie said: "She is a racist, she is a very pleasant, sweet racist and that is what is wrong."
The conversation fell as the Illegal Migration Bill continued its rocky passage through the House of Lords. The Archbishop of Canterbury hit out at the government's asylum bill, branding it as "morally unacceptable".
Speaking in the House of Lords, Justin Welby argued against the flagship legislation aimed at ensuring people who arrive in the UK in small boats would be detained and promptly removed, either to their home country or a third country such as Rwanda.
READ MORE: Archbishop of Canterbury Justin Welby slams controversial migrants bill as 'morally unacceptable'