'Someone needs to carry the can' for schools with 'built-in obsolescence', ex-headteacher demands
4 September 2023, 16:10 | Updated: 4 September 2023, 16:18
Campaign for Real Education chairman: 'Why on earth are we not building schools that last?'
"Why are we building schools to only last 30 years?" Shelagh Fogarty asks in discussion with the Chairman of the Campaign for Real Education, Chris McGovern.
Speaking to Shelagh Fogarty, Chairman of the Campaign for Real Education, Chris McGovern, said there are questions to be answered about schools 'built-in obsolescence' as the government faces pressure to mitigate the Raac crisis.
READ MORE: School concrete collapse fears explained: When will I know if my child's class is affected by and what is RAAC?
Shelagh began by asking: "Why are we building schools to only last 30 years?"
Mr McGovern replied: "That's the question, of course, we do need to find out why we're using this substandard material.
The affected schools had been built with reinforced autoclaved aerated concrete (Raac), which has a lifespan of only around 30 years. Now, schools across the country are being closed over safety concerns, with many of their roofs collapsing.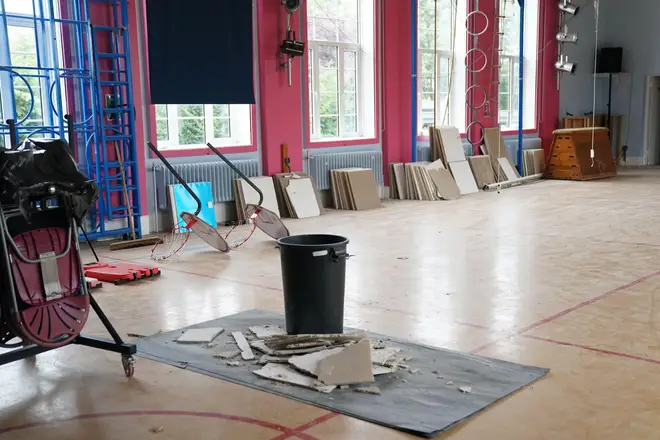 Mr McGovern added: "Interestingly, the children who were in Victorian schools, which are often criticised for being old-fashioned, they're going to be fine.
Read more: 'Schools have been allowed to wither': James O'Brien criticises Sunak's refusal to fund concrete safety repairs
Shelagh then spoke about how her junior school, a Victorian red-brick building, is "still standing, beautiful" and "solid as a rock."
In comparison, she told Mr McGovern that her senior school was torn down after only standing for around 30 years.
In response, Mr McGovern compared her senior school - and the other hundreds of buildings currently in despair - to Austin Motor cars, that were "built in obsolescence" and how "they're going to fall down."
He then explained how the previous building for the Department of Education "more or less fell down", resulting in the department being moved into another building.
The Education Secretary, Gillian Keegan, is set to appear in the Commons on Monday to make an emergency statement addressing the issue.
She is expected to face renewed demands to publish a full list of the schools affected as the Commons returns from its summer recess.
She has recently had to apologise after being filmed by ITV during an expletive-laden rant.
Read More: Education Sec blames interviewer as she apologises for expletive-laden rant over concrete crisis
Meanwhile, Prime Minister Rishi Sunak has slammed claims that the government had halved the budget for fixing these schools.
Mr McGovern called for someone to take accountability for the current crisis.
"Someone needs to carry the can. We need to learn the lesson from the past."