'Assuming that people in the boats are a danger to us is self-harm,' says Shelagh Fogarty
24 May 2023, 19:09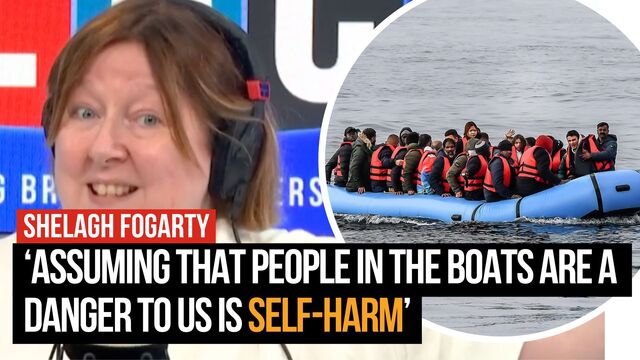 Shelagh mono on legal migration
Shelagh condemns the Tories' immigration rhetoric, highlighting that unless migrants are 'angelic nurses, doctors or engineers', we're 'sniffy' about them.
The "language and approach" to the legal and illegal migration is "self-harm" says Shelagh Fogarty.
Imitating politicians who are approaching the situation with "pride", Shelagh stated: "We need to bring legal migration down, forget the boat people for a second, we need to bring legal migration down!"
Questioning whether we need to halt legal migration, Shelagh said: "Do we? Or do we need to build communities in which they can live and work and play and marry and contribute?"
Acknowledging the complexity of the situation, Shelagh stated: "If you regard the people involved as human potential, human beings with potential and again, I repeat I get that it's complicated."
Listen and subscribe to Unprecedented: Inside Downing Street on Global Player
David Cameron sympathises with govt on migration plans
Condemning the political approach to migration as "self-harm", Shelagh outlined: "Assuming that the people in the boats are a danger to us is self-harm.
READ MORE: Sending migrants to Rwanda 'best available option' to crush people-smuggling gangs, David Cameron says
"Assuming that people who want to come to live here and work here, unless they're angelic nurses, or clever doctors and engineers, we're kind of sniffy about them aren't we?"
Referencing former prime minister David Cameron's interview with Nick Ferrari at Breakfast, Shelagh said: "I would say to David Cameron when he has no better ideas, try looking at these people as human beings with potential and create your policy around that".
READ MORE: Suella Braverman will not be sacked over claims she asked civil servants to arrange private speed awareness course
Speaking to Nick Ferrari at Breakfast, David Cameron said, he can't see an alternative to the controversial Rwanda policy and has "huge sympathy" with ministers' attempts to "collapse the model of human smugglers".