Caller tells Shelagh Fogarty he wants Russia to win the war
22 February 2023, 17:01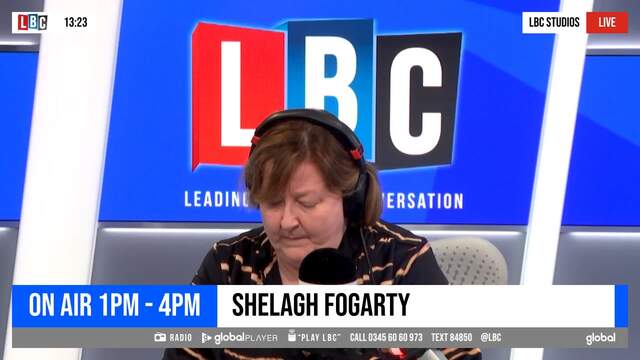 Shelagh Fogarty on the 'nonsense' of Ukraine becoming a neo-Nazi state
This caller told Shelagh Fogarty that he wants Russia to win the war because he believes "if they win the war, all of this will come to an end".
This follows Putin's annual speech and Biden's address in Poland to mark one year since the start of the Ukraine war, this week.
The caller said: "I'm in support of Russia, to be honest, I want them to win the war, I think if they win the war all of this will come to an end, I don't think Russia want to take over the world."
The caller then said that Putin has said from the beginning that he is fighting neo-Nazis.
Shelagh Fogarty interrupted: "Well, that's true here as well ... are there Neo Nazis in Ukraine, yeah, are there neo-Nazis in Germany, yep, there are neo-Nazis in Poland, in Russia, in this country, in Liverpool, in Rotherham, they're everywhere but that is not what is driving Vladimir Putin in this war, it is not."
READ MORE: Putin made 'big mistake' in suspending last nuclear arms treaty between the two countries, Joe Biden says
The caller then said: "But neo-Nazis are not causing problems anywhere else are they?"
Shelagh said that everything the caller said is "demonstrably untrue."
Shelagh said: "The evidence for what you are saying simply doesn't exist and the evidence for what I'm saying does exist and is as clear as day.
"You can have a view of the West, you can have a view of America and think that the moves we have made have antagonised Russia and at some level, you would be correct."
"But the idea that one of the many reasons [Putin] has given for invading Ukraine is because its somehow becoming a neo nazi state that from a Russian perspective absolutely has to be defeated is utter demonstrable nonsense."
READ MORE: Russia 'carried out test on Satan II ballistic missile' while Joe Biden was in Ukraine - but it failed