'Suella Braverman has to stop playing silly games': Shelagh Fogarty demands 'respectful' migrant rhetoric
15 May 2023, 21:08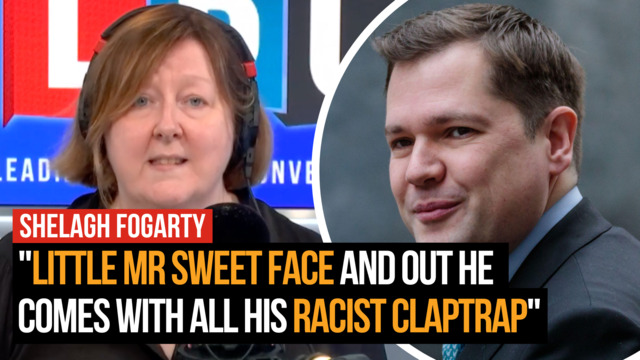 Shelagh Fogarty: Migrant rhetoric just needs to be 'respectful'
Shelagh Fogarty lambasts Suella Braverman and Robert Jenrick for lacking 'truth' and 'pragmatism' when discussing the migrant crisis.
In a partisan speech on Monday, Suella Braverman was due to say Brexit, and the chance to restrict migration, would encourage economic growth and suggest Britain train its own lorry drivers and fruit pickers to plug the gaps in the labour market.
Reacting to the Home Secretary's speech, Shelagh Fogarty rebuked both Suella Braverman and the Minister for Immigration, Robert Jenrick.
"All she needs to do, Suella Braverman, is to stop playing silly games and be respectful about human beings. And Jenrick, where's he come out of the traps little Mr Sweet Face, and then out he comes with all his racist claptrap as well."
"Truthful, pragmatic. That's all we need," Shelagh continued.
Listen and subscribe to Unprecedented: Inside Downing Street on Global Player
Darren in Basingstoke, the caller who was in conversation with Shelagh, said: "I like what Sir Keir Starmer has said, he's opened up a conversation piece.
"That's quite brave because I'm sure there'll be some advisers in his party that say, 'Don't say that because we could lose this corner of the UK's vote.'"
This conversation came after Sir Keir Starmer joined Nick Ferrari at Breakfast also on Monday. The Labour leader said it was not right that someone could contribute to the economy and communities for 30 years and not have a say in national votes.
"Everybody needs far more intelligent, articulate, honest, truthful, and pragmatic about the language they're using."
Shelagh cut in: "But also policies. Policies that genuinely support communities."
READ MORE: No vote after 30 years in UK 'feels wrong': Starmer weighs up letting millions of EU citizens vote in national elections