'Immoral philosophy': Caller reveals moral philosophy professor had affairs with students
23 February 2023, 16:23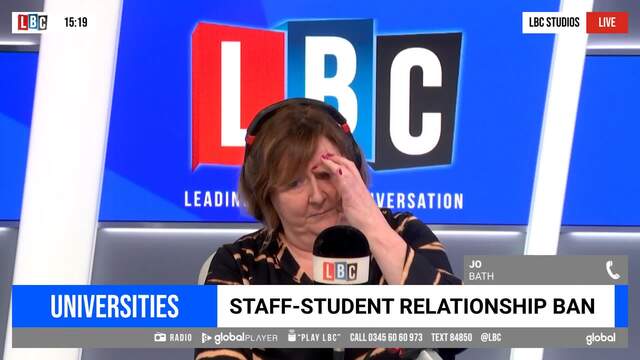 Caller: Fellow student had affair with Moral Philosophy professor
After this caller revealed that a fellow student at her university had an affair with the moral philosophy professor, Shelagh Fogarty recommended the university set up a new department - of "immoral philosophy".
Jo in Bath phoned in to Shelagh Fogarty to reveal the details of a relationship between a professor and a fellow student while she was at university.
It comes as England's universities regulator has proposed that relationships between staff and students should be documented or banned.
The plans from the Office for Students (OfS) focus on relationships where the staff member has responsibilities toward the student.
Jo explained that many of her peers were mature students when she was at university in the southwest of England in the 90s.
She then revealed that only two people in her year group achieved a first in their degree, on of which was a married women with children who "had an affair with the professor of moral philosophy".
"Ironically", Shelagh responded before adding: "Immoral philosophy maybe... new department."
Jo continued: "It clearly hadn't been the first time.
"If a professor does that once, you can be sure they've done it before - particularly if he's in his 70s."
Jo added that the woman's husband had allegedly gone to the university and "decked" the professor.
After becoming a university lecturer herself, Jo said: "We all knew students get crushes on teachers, it's part of that power dynamic.
"Good teachers keep those students at arms length."
READ MORE: Police warn locals not to approach man in Cookie Monster costume terrorising seaside area
READ MORE: Eat turnips not tomatoes: Environment Secretary tells Brits facing veg shortage as she warns of month of bare shelves