Distressed caller tells Shelagh Fogarty: "I'd rather die than be raped"
4 April 2023, 16:43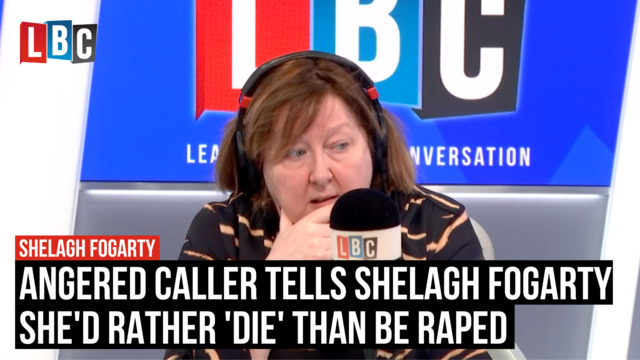 Angered caller tells Shelagh fogarty she'd rather 'die' than be raped
This caller now wishes to train as a judge, brandishing rape sentences as 'pathetic.'
In a call to Shelagh Fogarty, Sarah in Hereford recounted the story of her friend being raped in 1982 saying "there is not a day that goes by where she [her friend] does not think about it."
She explained that the rape took place at five o'clock in the afternoon in a park and that the perpetrator had only received an 18-month sentence.
The call came following public outrage after Sean Hogg, who has been found guilty of raping a 13-year-old girl when he was 17, avoided jail.
Hogg received just two hundred and seventy hours of community service for his crimes, with the judge citing his age as a reason for the minimal sentence.
READ MORE: Outrage as man, 21, who raped girl, 13, in park walks free from court after judge considers him too young to be jailed
Sarah exclaimed: "It's almost like no one thinks it's serious!"
She went on: "Why aren't people getting twenty years? It's the worst thing you can do to somebody."
Shelagh recalled comments from Dame Louise Casey who led an independent review of the MET's culture and standards of behaviour released earlier this year.
Speaking to Shelagh a couple of weeks ago, Dame Louise reflected on comments from a senior female police officer, who reportedly told her that if you are raped and murdered, you receive the cream of the crop of the MET but if you are only raped, you won't.
READ MORE: Met police officer guilty of raping woman and accessing his victim's restricted crime report
Sarah responded: "Every female in the land will concur the worst thing that can happen to one's daughter, one's sister, one's mother and I just can't countenance that the sentences forty-one years later are pathetic."
Shelagh concluded, saying: "It does send a message to women and men, boys and girls and they're very different messages."