'There's nothing more important': Wes Streeting sends brazen message to Rishi Sunak ahead of further NHS strikes
7 September 2023, 16:15 | Updated: 7 September 2023, 16:16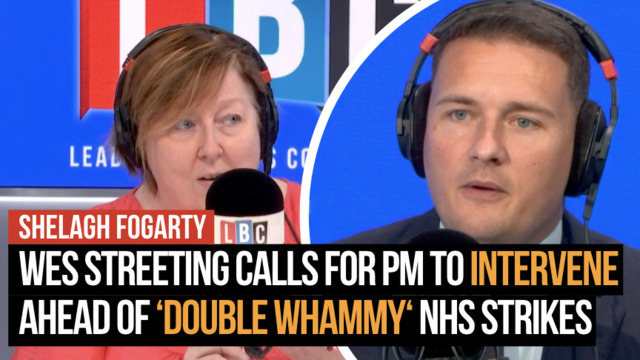 Wes Streeing calls for PM to intervene ahead of further NHS strikes
Shadow Health Secretary delivers a message to Rishi Sunak, as he calls for him and the Chancellor to intervene ahead of 'double whammy' consultant and junior doctor walkouts.
Junior and senior doctors in England are set to strike together for the first time in NHS history later this month, reducing health services to Christmas Day levels of care for four days in September and October.
Speaking to Shelagh Fogarty, Shadow Health Secretary Wes Streeting, addressed the strike action noting his concern regarding the situation.
He began by stating: "I think there are real risks to services, I'm anxious about patients' safety based on what lots of NHS leaders are telling me about."
Reflecting on the proposed industrial action, the Shadow Health Secretary said: "We have an extraordinary spectacle of nurses, junior doctors and now consultants all taking strike action because the government have not listened, treated them with respect and even sat down to negotiate."
Criticising Health Secretary Steve Barclay, Mr Streeting told Shelagh: "He hasn't met the doctors since May" adding "I have met with the BMA, I've listened to their concerns."
Read more: How suspected terrorist Daniel Khalife escaped HMP Wandsworth 'on back of food truck'
Wes Streeting praises Capital Breakfast presenter's mental health plee
Read More: Nurse arrested on suspicion of poisoning baby as probe launched into surge in fatalities at children's hospital
Noting how he would resolve the ongoing pay dispute, the shadow cabinet minister added: "I want to resolve this dispute through negotiation as I'm desperately anxious about whether these strikes go ahead."
Recounting an interaction with the former Health Secretary Jeremy Hunt, Mr Streeting stated he pleaded with him to intervene noting the "absolute disaster" which would entail if action went ahead.
Read More: Lucy Letby inquiry given powers to compel NHS bosses to face questioning over baby murders
In a message for the Prime Minister, he stated: "I'll just say to Rishi Sunak, you haven't got a hope in hell's chance of delivering the pledge you made to the country to cut NHS waiting lists if you are ignoring the doctors and sending them out on strike, get round the table.
"There is nothing more important in your diary than resolving these NHS strikes.
"There's nothing more important for patients than resolving these NHS strikes."
Concluding, Wes Streeting asserted that he believed the biggest risk of all for the NHS in the long term isn't about ongoing strikes, but is if doctors walk out of the NHS "altogether".
The doctors will stage their protests on 20 September and then on 2, 3 and 4 October, during the Conservative party's annual conference in Manchester.