Shelagh Fogarty reprimands the 'immature' cancelling of an SNP MP over her gender views
2 May 2023, 19:30 | Updated: 2 May 2023, 19:55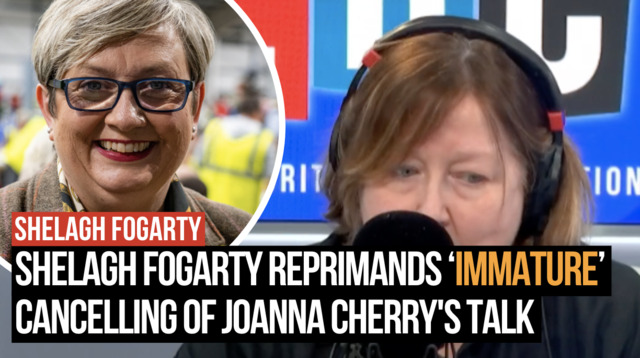 Shelagh Fogarty reprimands the 'immature' cancelling of a talk by SNP MP Joanna Cherry
The comedy club due to host Joanna Cherry stated it is no longer able to host the show after key operational staff said they were "unwilling" to work it.
Shelagh Fogarty unpicked the "immature" reasoning behind the cancelling of SNP MP Joanna Cherry's talk at the Fringe Festival with caller James in Liverpool.
The MP was due to appear at The Stand in August as part of an In Conversation With series of events organised by Fair Pley Productions.
However, the comedy club recently said it is no longer able to host the show after key operational staff said they were "unwilling" to work it.
READ MORE: 'Dangerous and unfair': Trans pupils to be blocked from playing sport with opposite sex under new plans
Shelagh stated: "What obligation do they have to their staff, that they never feel uncomfortable about something they hear, in a venue that is about politics?
"What are they bunny rabbits or adults?"
Speaking to caller James on this issue, Shelagh said "I can't be indulged in that way" exclaiming she would be asked to "stay off" without "pay" if she refused to work "because so and so is in the building being interviewed".
Caller James held the view that the "danger" is in an "already radicalised" individual attending the event, "listening to that opinion and believing that to justify their own hatred".
READ MORE: Moment furious driver 'runs over foot' of Just Stop Oil protester as group causes more London traffic chaos
Defending her viewpoint Shelagh stated "Nothing about what Joanna Cherry says invites violence on trans people or is in any way radical".
She added: "It's not extremist and it's not violent and it's not inciting violence".
They concluded their discussion, with Shelagh stating: "I don't think we are going to agree on this James, we agree that people should have their say but you seem to be finding a reason that in this instance Joanna Cherry shouldn't have her say".
Ms Cherry, the MP for Edinburgh South West, has been a vocal critic of the Gender Recognition Reform (Scotland) Bill, which aims to simplify the process for people to change gender in the eyes of the law.
The bill, which will see the Scottish and UK governments battle it out in court, has been a contentious issue with critics arguing it undermines women's rights and single-sex spaces.