Agitated caller questions why Gary Lineker should be given 'special treatment' following impartiality row
13 March 2023, 17:28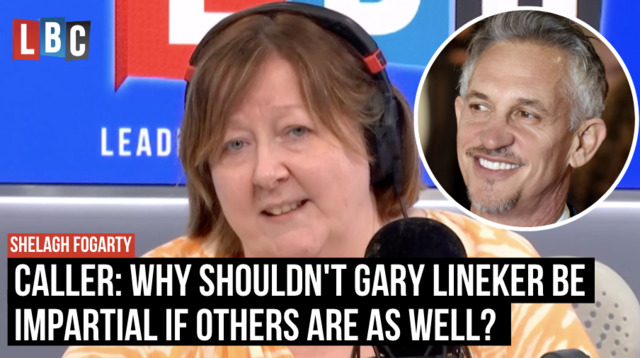 Caller: Why shouldn't Gary Lineker be impartial if others are as well?
A caller tells Shelagh Fogarty the solution to the BBC impartiality row is "uniformity and consistency" and "all employees" including Gary Lineker should have impartiality rules in their contract.
Speaking to Shelagh Fogarty, Sam in Ash said if "nuance" is brought into impartiality discussions another situation like that of Gary Lineker's will happen again, as "loopholes" will be opened.
The call comes after Gary Lineker was briefly suspended from presenting Match of the Day for his comments on the government's migrant policy, which he said were reminiscent of 1930s Germany.
He has been reinstated today following an apology from the BBC, with Chief Executive Tim Davies saying an internal investigation will be launched into the organisation's social media usage guidelines.
READ MORE: 'Delighted' Gary Lineker tweets about migrants as gets his job back - with BBC forced to issue grovelling apology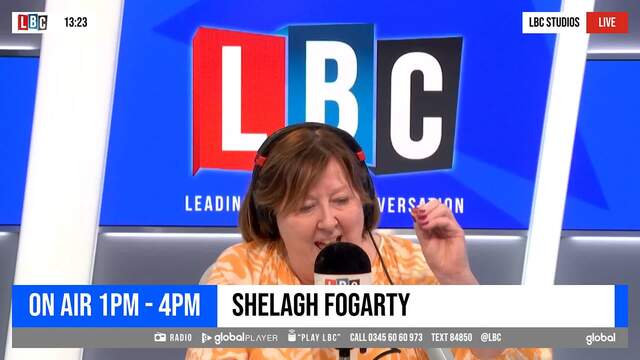 Shelagh Fogarty discusses BBC impartiality after Gary Lineker row
Sam went on to tell Shelagh that the only way to move forward, was for all BBC employees to be contractually obliged to impartiality.
He said: "If thousands of other employees are able to maintain impartiality, who is Gary Lineker not to be able to maintain impartiality if he wants to work for the BBC?"
Shelagh then pointed out that there are different types of presenters, with news presenters and journalists different from presenters on shows like "Strictly Come Dancing and Bake Off."
READ MORE: What did Gary Lineker say? Why his Nazi comments have become hugely controversial
Shelagh then asked: "Do you think the BBC might look at this and think 'if you work with us you can't say your opinion anywhere other than in private' then some people might say 'I'm not going to bother, I'll go somewhere else?'"
Sam replied: "No one is indispensable, no one has a monopoly on how to do a job."