'It's the moral equivalent of hiding in the fridge!': Shelagh Fogarty reacts to Rishi Sunak's absence from Partygate report vote
20 June 2023, 17:53 | Updated: 21 June 2023, 10:23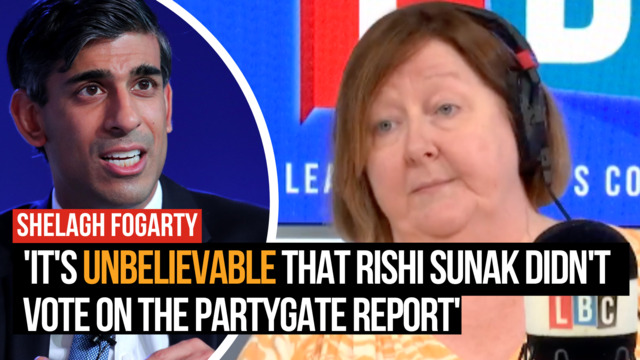 Shelagh Fogarty responds to Rishi Sunak not voting on Partygate report
Shelagh Fogarty offers her thoughts on Rishi Sunak's decision not to cast his vote on the Partygate report.
Shelagh Fogarty spoke to listeners after a vote was held in the House of Commons, where MPs were invited to vote for or against the Privileges Committee's finding that Boris Johnson knowingly and repeatedly lied in Parliament.
The vote concluded with an overwhelming majority in favour of the report. However, as this was a "free vote" some MPs were absent and most notably absent was the Prime Minister, Rishi Sunak.
Shelagh asked: "How is it possible that a committee of MPs in Parliament, that was created by MPs and given the job by MPs of assessing, in this instance, Boris Johnson's honesty and found it egregiously wanting.
"How is that committee, now to the current Prime Minister, Rishi Sunak, and unspeakable thing?"
READ MORE: 'Show leadership': Starmer hits out as Sunak 'to skip vote' over banning Boris from Parliament for misleading MPs
Criticising the reaction of Rishi Sunak Shelagh said: "Its findings have left him mute.
"The same guy who a week and a half ago, Rishi Sunak was sitting there on a stage at a London tech even acting like a political gunslinger saying 'You know Boris Johnson asked me to do X, Y and Z with his resignation honours, that's something I wasn't prepared to do, and if people don't like that tough".
Shelagh continued: "I just think it is unbelievable that one of the most serious sets of findings against a British Prime Minister, Boris Johnson, You know the worst consequences against a Prime Minister, in many cases ever.
"It's the moral equivalent of hiding in the fridge!"
Rishi Sunak said the decision was up to the "house and not the government" when pressed on whether he was to be in attendance.
READ MORE: Rishi Sunak accused of having 'no backbone' and showing 'cowardice' for abstaining from Partygate vote