Shelagh Fogarty hits out at the 'boys club sexually molesting and abusing' female surgeons
12 September 2023, 16:13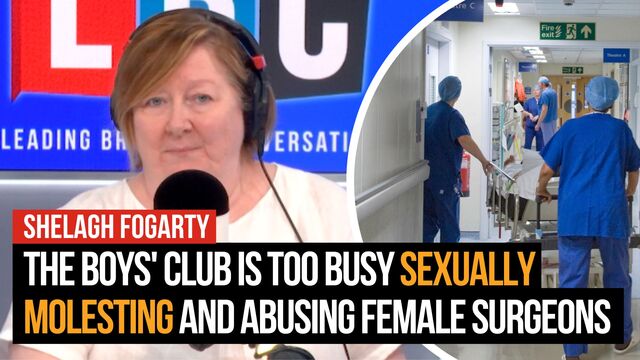 Tolerance of sexual assault has seeped 'deep into our bones' asserts Shelagh Fogarty
Shelagh said the sexism "deep in our culture" is preventing female surgeons from progressing in their career – as a new report showed how almost 1 in 3 have been sexually assaulted.
"Enough surgeons are saying nothing when it happens," Shelagh said "The boys club… [is] too busy sexually molesting and abusing them."
She then took the chance to connect this sexist culture with the low proportion of female surgeons working in the NHS: "16% of consultant surgeons are female. You don't say, Sherlock. There's a tail-off of women in surgery as they go up the ladder."
This followed a survey, published in the British Journal of Surgery, which found 30% of female surgeons had been sexually assaulted, 29% had experienced unwanted physical advances and almost 90% of women said they had witnessed sexual misconduct.
It also reported 11 instances of rape.
Read more: 'We need to eradicate this completely': Top surgeon 'ashamed' by sexual assaults on female colleagues
"If you're shocked, fellows, you need to listen better, you need to listen better," Shelagh added, before explaining how this issue is not unique to the NHS: "It's everywhere because of that tolerance that I think we still have in our culture, deep in our culture… into our bones."
She referenced the recent of former Spanish football boss, Luis Rubiales, kissing a female footballer on the lips, as an example.
"[Mr Rubiales was] holding a woman's head so firmly that she's in a vice, essentially, formed by his hands. And then kissed on the lips without her permission and without her wish to be kissed on the lips.
"Women don't have physical privacy because we live in a culture where at a moment's notice, it can be taken from you."