'They have got to give back as well': Caller demands 'respect' from migrants living in the UK
29 March 2023, 16:47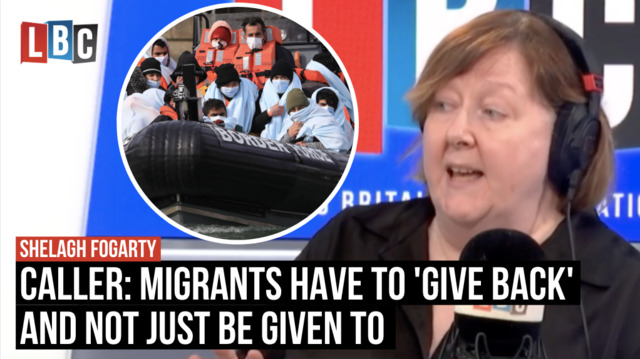 Caller: Migrants have to 'become who we are'
This caller, whose "loyalties" lie with homeless Brits, tells Shelagh Fogarty that migrants can't expect to not have to give back.
Joseph from Eltham started by telling Shelagh Fogarty about his experience working in the Army at the Napier Barracks in Folkestone.
Expressing his frustration, Joseph said: "It's not as run-down as people are saying at all. You can walk quietly for five minutes and you're in areas where there are bars, restaurants, and pubs.
"But if [migrants] have come from some of the camps that they've been in - surely Napier and some of these other disused military bases are gonna be twenty times better than where they've just come from - do you know what I mean?"
READ MORE: Thousands of asylum seekers to be housed in military sites including former Dambusters base
The call comes as the government considers where asylum seekers can live while their claims are processed, with the Government under pressure to get them out of costly hotels.
Reports suggest some 51,000 people are being accommodated in hotels at a price of nearly £7m a day.
Joseph continued to tell Shelagh about his recent visit to a hospital in A&E for "27 hours".
He said: "I watched and I actually counted 15 homeless people coming in just to get out of the cold.
"Not only are they coming in to get out of the cold they're coming in because they're hungry, you know, they're fighting against themselves for a cup of tea.
"That's where my loyalties stay-"
Shelagh replied: "Well, why can't your loyalties lie to both?"
Joseph said: "If you come to this country you've got to respect who we are and become who we are.
"You can't just come here and expect to be given, you know, you've got to give back."
READ MORE: Suella Braverman accused of being 'sock puppet' for Tory right and fuelling rebellion against her own migrant plan