Labour MP Stella Creasy tells Shelagh Fogarty of safety concerns over Chancellor's childcare plan in Spring Budget
15 March 2023, 19:06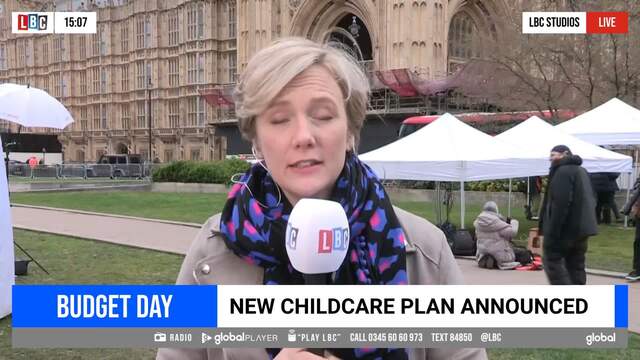 Stella Creasy tells Shelagh Fogarty she is 'very worried' by the Chancellor's Spring Budget
Labour MP Stella Creasy thinks childcare funding pledges made in Wednesday's Budget announcement "require much closer examination" amid fears for children's safety.
Speaking to LBC's Shelagh Fogarty after Jeremy Hunt's announcement on Wednesday about whether enough money had been directed towards proposed childcare reforms, Ms Creasy said she felt "worried".
She said that the reforms "could cause problems for the childcare industry because it is so underfunded, even if you do change the ratios" on how many young children each nursery worker can legally be responsible for.
The discussion comes after Mr Hunt said that the government would be extending its 30 hours free childcare scheme to children from nine months old.
READ MORE: Childcare reform: When can you claim new 30 hours free childcare for one and two-year-olds?
Ministers hope that the new funding, which is currently offered to children who are three and four years old, will encourage parents and carers back into work sooner, ultimately helping with overall economic growth.
The scheme will also be available in Wales, Scotland, and Northern Ireland after pressure with childcare costs grew when it was confirmed the UK was some of the most expensive in the world.
READ MORE: Jeremy Hunt's 'back to work' Budget boost for old and young - as UK to avoid recession this year
But Ms Creasy said she wasn't sure if the changes were safe.
The Walthamstow MP told Shelagh: "I'd like to see Jeremy Hunt looking after five two-year-olds on his own for a day and then tell us that's a safe and reasonable thing to do".
She added: "Even if you change those ratios there is still a gap that has to be properly funded".