Suella Braverman's 'misuse of language' exaggerates UK's migrant issue, Shelagh Fogarty argues
8 March 2023, 15:47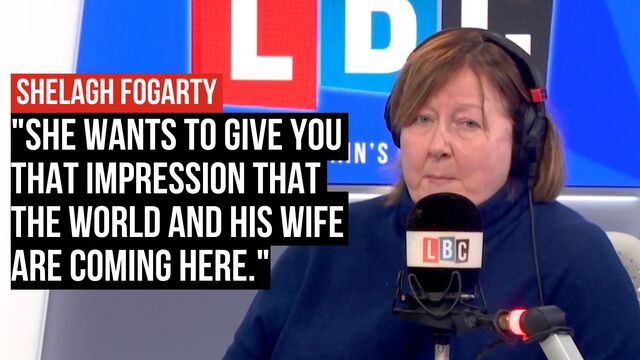 Shelagh Fogarty on 'misuse of language' around migrants
Shelagh Fogarty scrutinised the Home Secretary's discourse around the migrant crisis, as she said Suella Braverman exacerbated the true numbers.
Suella Braverman has been subject to mounting backlash after claiming "billions" of people are eager to come to the UK.
Quoting the Home Secretary, Shelagh Fogarty read: "There are one hundred million people displaced around the world, and likely billions more eager to come here if possible."
READ MORE: Backlash to 'cowardly' Suella Braverman after she blames 'activist blob' civil servants for 'blocking small boats plan'
Shelagh emphasises how Ms Braverman implied that "billions" of people are "gagging to come to Britain", adding how there are only "about 7.8 billion people on the planet".
The Home Secretary, who was previously under fire for comparing migrant crossings to an "invasion", has been heavily condemned for using the figure - which represents a massive proportion of the world's population.
READ MORE: 'Would Tories call for book burning?' questions James O'Brien over Gary Lineker migrant bill tweet
Arguing the language used to discuss the influx of migrants exacerbates the issue itself, Shelagh said, "she wants to give you that impression that the world and his wife are coming here".
On Wednesday during PMQs, the Prime Minister refrained from addressing the comments directed towards Ms Braverman's lexis and use of figures.
READ MORE: Gary Lineker hits back after Suella Braverman brands his asylum policy remarks 'irresponsible'
Shelagh's comments follow on from the introduction of the new law introducing harsh measures to deter migrants from crossing the channel on small boats was presented in parliament yesterday.
The Illegal Migration Bill will remove those who have crossed the Channel into the UK to a third country such as Rwanda and be banned from returning.