'Would Tories call for book burning?' questions James O'Brien over Gary Lineker migrant bill tweet
8 March 2023, 12:49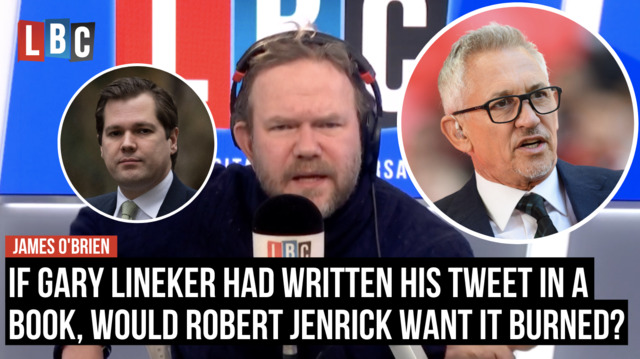 'Would Tories call for book burning?' questions James O'Brien over Gary Lineker migrant bill tweet
James reacts to Tory outcry after the football pundit compared Suella Braverman's migrant crackdown to Nazi Germany.
Football pundit Gary Lineker caused a stir after tweeting a video of the Home Secretary outlining the Illegal Migration Bill, stating the policy is "not dissimilar" to one implemented in "Germany in the 30s".
Questioning the condemnation of Mr Lineker's tweet, James scrutinised comments made by Immigration minister Robert Jenrick on Nick Ferrari's breakfast show this morning.
READ MORE: Minister says Gary Lineker needs a 'red card' for comparing government migrant crackdown to Nazi Germany
Mr Jenrick said: "He should certainly be shown a red card, I think it was very inappropriate".
James queried what being dealt a "red card" meant, adding how the Tories were evidently aspiring to "silence" critics.
READ MORE: Suella Braverman faces backlash over claim 'billions' of people are trying to reach UK
The football pundit condemned the plans as "immeasurably cruel," saying: "There is no huge influx. We take far fewer refugees than other major European countries.
"This is just an immeasurably cruel policy directed at the most vulnerable people in language that is not dissimilar to that used by Germany in the 30s, and I'm out of order?"
READ MORE: Ex-Australian Foreign Minister advises Rishi Sunak to 'stick at' Migrant Bill to stop small boats
James continued by saying: "If Gary Lineker had written the words that he tweeted yesterday in a book, would the tory cabinet and all of their client journalists be queuing up for the book for the book to be burnt?"
Lineker is expected to receive a dressing down from BBC bosses after comparing Home Office policy to Nazi Germany.
The Match Of The Day host will be "reminded of his responsibilities on social media" by the corporation following a tweet reply he sent on Tuesday, according to the Daily Telegraph.