Tories' 'heartlessness' will see them 'wiped out' at next general election, asserts Shelagh Fogarty
13 July 2023, 16:56
Shelagh Fogarty asserts her views on the governments failures
Shelagh Fogarty predicts that the Tories' "amateurishness" and subsequent "failure" will lead to their defeat in the upcoming general election.
Shelagh Fogarty spoke to listeners after it was announced that nearly a million mortgage holders will see their monthly repayments jump by £500 or more in the coming years, the Bank of England has warned.
Shelagh said: "The cost of living crisis has pushed so many more people into that position - this is why the Conservatives are going to be wiped out at the next general election.
"It's failure. It's failure, you have to be fair and point out that there have been tremendous political and global pressures happening and that other countries are facing difficulties as well, but there's no doubt that government failure and government heartlessness at times has played a part and government sloppiness and amateurishness have played a part as well."
READ MORE: Million households face £500 a month mortgage hike, Bank of England warns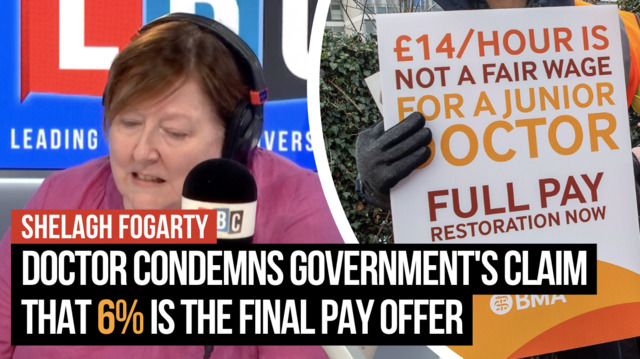 Doctor: 6% pay offer is 'insulting'
The Financial Stability Report highlighted evidence that borrowers were already looking at longer repayment terms to bring down bills, as well as switching to interest-only.
Renters are also seeing extra financial hardship as landlords push up charges to cover their own ballooning costs.
Shelagh continued: "Think of those COVID contracts, think of track and trace, think of the billions gone missing, and then for the sake of £1.5 billion across the public sector pay, people are told to wind their neck in and say yes to the pay offer and are told 'that's it, final offer'.
"I can see why it sticks in people's craw, I really can."
READ MORE: Mortgage rates soar to highest level for 15 years with average two-year fixed deal hitting 6.66%