Royalist caller urges King Charles to step aside 'and let William take the throne'
1 May 2023, 18:50
This Royalist caller urges King Charles to 'step aside and let William take the throne'
Arlette told Shelagh Fogarty she would've "died for the Queen" but "won't die for Charles". 
Royalist caller Arlette exclaimed to Shelagh Fogarty her love for the royal family, declaring "I absolutely adore my royal family, I would've died for the Queen, I won't die for Charles".
When questioned by Shelagh as to where her "antipathy" towards Prince Charles originated from, Arlette replied: "I just don't like him, and as the years have gone on, I don't like him even more."
Stating her viewpoint, that King Charles "doesn't have the interest of the people" at heart, she called for him to "step aside" and "let William take the throne".
READ MORE: Prince William planning 'heartfelt and loving' Coronation concert speech paying tribute to Charles and Camilla
Shelagh queried whether the self-proclaimed royalist would be watching any of the Coronation coverage, or partaking in any festivities, Arlette replied: "Nope I'm going to my drum lesson, I'm going to turn the television off and I'm going to play my drums, I have no interest, none."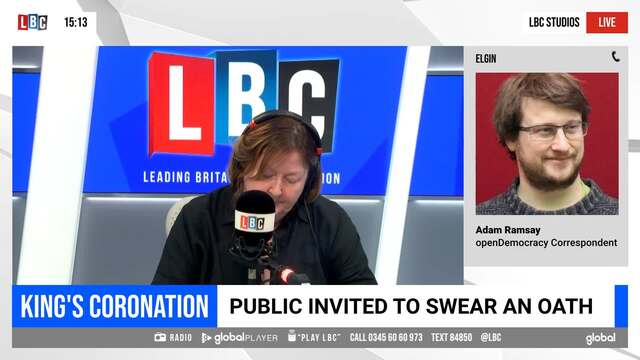 Adam Ramsay reacts to the public being invited to swear an oath
Their conversation falls as those watching the King's Coronation at home, in pubs, and in parks will be invited to swear their allegiance to the monarch aloud during the ceremony.
READ MORE: Kate 'plans to wear floral headpiece instead of traditional tiara at Charles' coronation'
Replacing the traditional homage of the peers, members of the public will be asked to declare during the ceremony: "I swear that I will pay true allegiance to your majesty, and to your heirs and successors according to law."So help me God."
After the Archbishop of Canterbury proclaims "God save the King", the public will then be asked to repeat: "God save King Charles. Long live King Charles. May the King live forever."